The designer's speculative vision turns the iconic shopping street into a colourful, plant-filled public space

Words by Francesca Perry
When London – like the rest of the UK – was plunged into an unprecedented lockdown in March this year, the streets of the city centre became eerily empty, devoid of cars and crowds. It was seeing the capital like this that led French artist and designer Camille Walala – along with creative producer Julia Jomaa – to reimagine one of London's most iconic, and typically frenetic, thoroughfares: Oxford Street.
Through a series of speculative designs, London-based Walala  has unveiled her alternative vision for the busy shopping street, reconfigured as a pedestrian-focused and plant-filled public space. The project, Walala explains, is a celebration of the city as well as a proposal for a 'more enriching' urban landscape. 
As anyone who has visited Oxford Street can attest, it is hectic, crowded and polluted at the best of times. Although private cars are not allowed to drive along it, the road is still packed with back-to-back buses, commercial vehicles and taxis. Meanwhile, the throngs of people are squeezed on to pavements that often become too difficult to navigate as a result.
In Walala's vision, the iconic street has been fully pedestrianised and extensive greenery has been added. It is then punctuated by a series of colourful, sculptural, interactive pieces of urban furniture (or 'architectural islands') that function as public seating, planters, public art and landscaping – and sometimes water fountains too. The environment is decorated using Walala's signature bright colours and 3D-effect patterns, all in an ambition to spark joy.
This may not be a predictive vision of how Oxford Street will transform – though there are certainly ongoing, hotly debated efforts to improve it – but in this time of citywide and national lockdown, when activities are replaced by imagination, it prompts a kind of positive future dreamscape, and helps design professionals and general public alike to rethink the city in ways that prioritise pedestrian experience and wellbeing.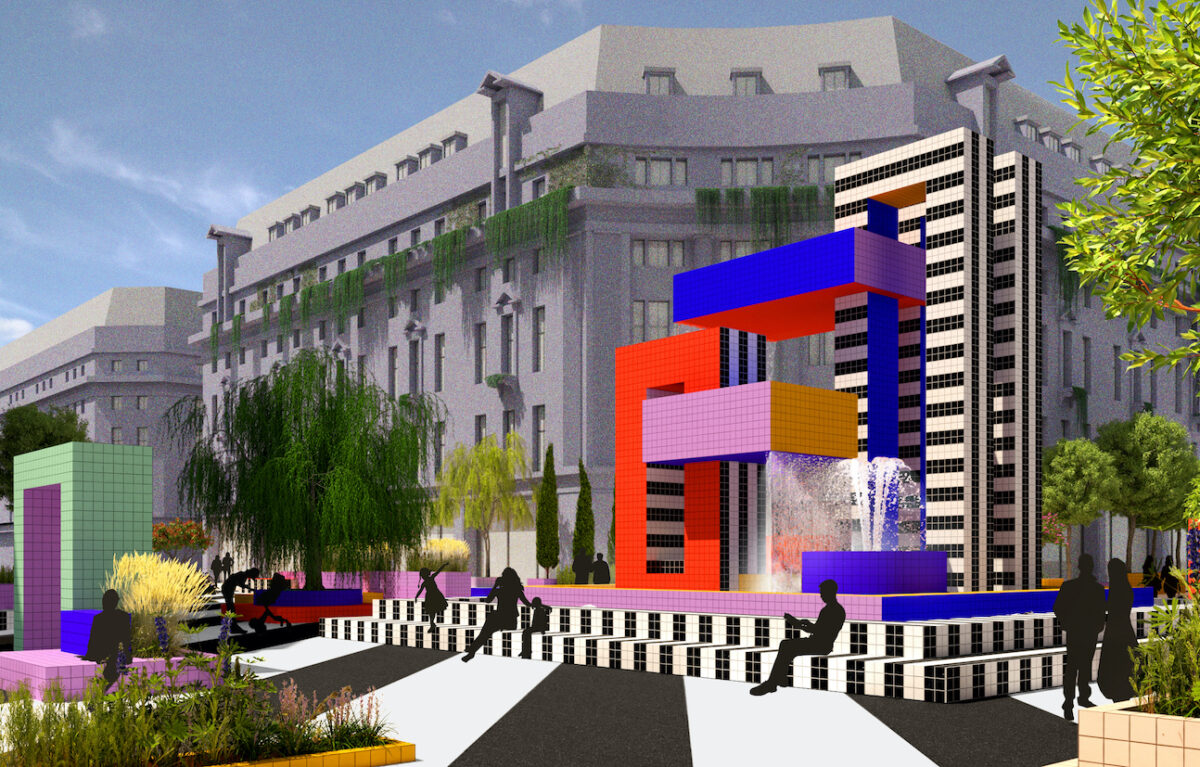 To accompany the project, Walala has written a 'love letter' to London, having lived in the city for 23 years. 'London has an energy and creativity unlike anywhere else in the world,' she writes. Here is an excerpt from her letter:
At the beginning of lockdown earlier this year, I was cycling around the city with my partner, Julia. We were struck by the silence of the streets, the sense of peace that had descended on London in the absence of the traffic, and we started talking about how cities might be fundamentally different.
We decided to devote some of our time in lockdown to this speculative project – a visualisation of a better, brighter city. Iconic, but notoriously busy, Oxford Street was the obvious starting point – what might it be like if there were no cars but more greenery? What if there were spaces and structures that people could interact with however they liked? What if Oxford Street made you happy?
This project is my what-if portrait of the city of tomorrow, and my own projection of what the London I love might one day look like. In times such as these, when the future is uncertain, strain on mental health is high, and many of us are facing tough challenges in our lives, I believe it's crucial to hang on to what hope we can for the future, and to spread joy in the present. 
Images courtesy of Camille Walala and Omni Visual
---