As well as a bevy of returning favourites, this year's 100% Design fair will feature an abundance of first-time attendees
When Niclas Hoflin was a child, he would entertain himself by waving his mother's lighter around a darkened basement. With this in mind, it's little surprise that he grew up to become a lighting designer. After a decade working for the celebrated Danish product designer Ole Palsby, Hoflin took the helm at Rubn: a lighting brand established in 1951 in Vittsjö, southern Sweden.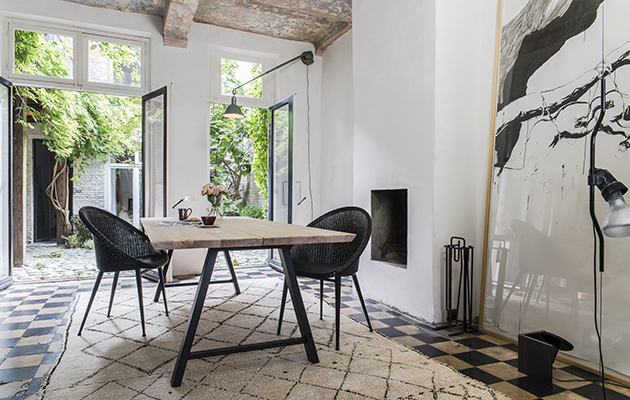 Vincent Sheppard's Albert A dining table and Jack chairs in black
Under Hoflin, Rubn operates on an ethos of cooperation. 'Everything is connected,' he has written, 'people, objects, and ideas – they all have to work as a unit.' Rubn's fixtures have recently illuminated several of Europe's most acclaimed design hotels: At Six in Stockholm, Hotel Danmark in Copenhagen and Münster's Mauritzhof.
While Hoflin contemplated the luminescent qualities of fire, Konstantina Smponias grew up ensconced in her family marble business. Attracted by 'the fascinating randomness of these materials', she studied mineral resources engineering, interior design and architecture before setting up MONO.ROCKS, a purveyor of the finest stone. The company's range, sourced from heritage quarries around the world, encompasses five strands of marble – including Spanish black, Turkish Ayfon marble and Italian Carrara – as well as travertine and lava. Based in Athens, MONO.ROCKS draws on the millennia-old marmoreal history of the Mediterranean. This year, Smponias also will be presenting new small-scale design objects.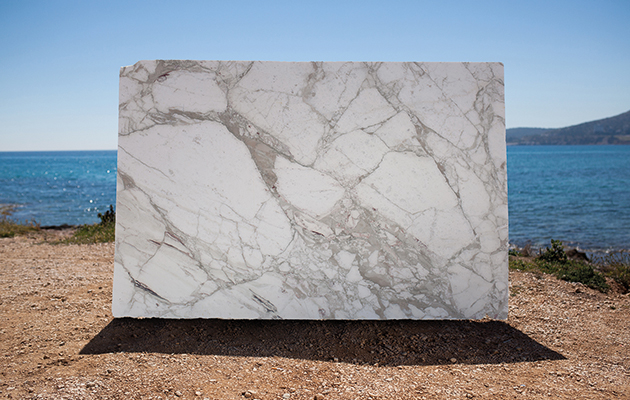 Carrara Verde from Italy, one of seven stones supplied by Mono Rocks
Another studio with a strong sense of the past is Vincent Sheppard, which is based in Spiere, Belgium. The studio specialises in wooden furniture and is a master of the Lloyd Loom: an early 20th-century technique whereby paper is twisted around wire before being machine-wove into larger sheets of thread. Conceived due to wartime rattan shortages, the new material was both stronger and softer than its predecessors. Since being founded in 1992, Vincent Sheppard has revived and maintained this material for house and garden furnishings, while also exploring weather-proof synthetic analogues. The company's pieces are handcrafted in its factory in Cireban, Indonesia: a town well-known for its weaving expertise.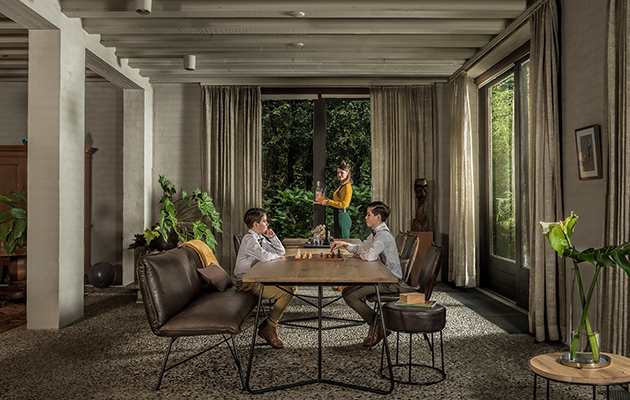 Jess Design's Charlotte table, Vidar sofa and Cody stool
Meanwhile, across the border from Vincent Sheppard in the Dutch town of Oss, dwells Jess Design. Owned and directed by Maarten van der Goor, the company takes pride in their 'level-headed Dutch nature.' And indeed their products – including chairs, tables, and lighting – tend towards the subtly modernist, with a particular tilt towards soft leather upholstery. Last year, Jess' Earl lounge chair was awarded a German Design Award. Proud of its 'sense of aesthetics, pure perseverance, and sheer guts', Jess has furnished restaurants and hotels in the Netherlands, Russia, and Singapore.
---