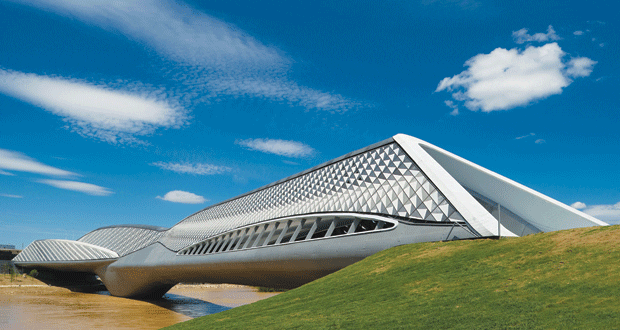 words Oliver Wainwright
The curvaceous bowels of Zaha Hadid's Bridge Pavilion swallow visitors as they arrive at Expo Zaragoza 2008. Seven thousand tonnes of steel writhe 270m across the River Ebro, splitting open at points to bare a ribbed snarl towards the Expo site beyond – a motley zoo of whimsical pavilions and street theatre on the theme of "Water for Life".
The first covered bridge in Spain – and proudly boasting the country's deepest pile foundations – this is a seminal project for Hadid. It's the first built bridge in her ongoing preoccupation with long-span structures, and illustrates, in her own assured words, "the excellent symbiotic relationship we have with engineers."
"The form comes from extruding several diamond-shaped sections along slightly curved paths, to create four distinct 'pods'", says project architect Manuela Gatto. "The collision and intersection of these trusses creates a series of dynamic transition spaces, while also providing bracing in order to reduce the size of the structure."
An elegant steel lattice covers these pods, leading visitors through dark, narrow passages into airy light-flooded walkways, from the hush of sealed exhibition rooms to the lively throng of wide pedestrian decks. Yet this intended spatial fluidity is hampered by the exhibition's imposition of a one-way system, blocking several routes and openings, forcing visitors to leave and re-enter in order to get to the upper levels.
While, internally, much of the structure is left beautifully exposed, the exterior is smothered with a skin of glass-reinforced concrete panels organised in dizzying op-art patterns – as though the bridge is uncomfortably squeezed into a pair of rather loud Spanish leggings. But, brashness aside, this is a virtuoso structure; it's just a shame it doesn't really go anywhere.
images Fernando Guerra
top image Glass-reinforced concrete panels cover the steel structure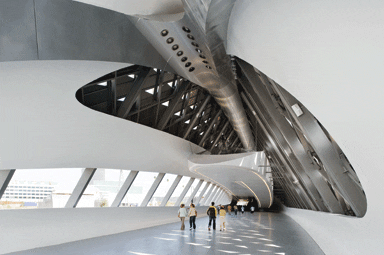 Light-flooded walkways lead between four "pod" spaces
---