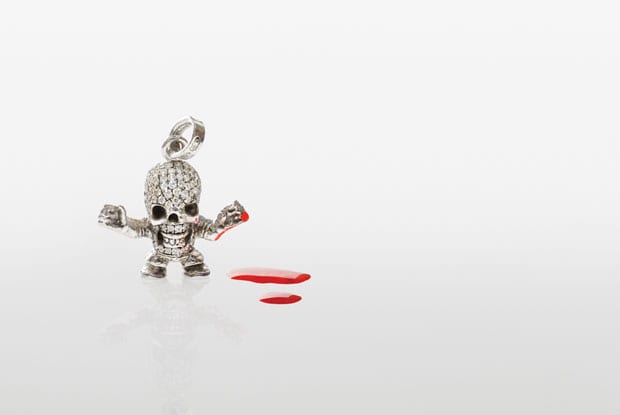 words William Wiles
Will the crash save luxury design?
As the worst economic crisis in decades unfolds, the question sounds absurd. The luxury industry is surely the very first thing to be affected in a downturn. After all, luxuries are by definition unnecessary. And there's a palpable sense of exhaustion with the excesses that have accompanied the end of the long consumer boom – the diamond-encrusted accessories, the vodka with gold flakes, the oligarchy and Dubai chic. The luxury end of design, its creativity long ago suffocated by rampant bling and tireless pursuit of fashion, now looks ready to be wiped out by the economic crisis and mounting concern over the environment.
Indeed, the bonfire has been lit. Spending on luxury goods dropped more than 20% in October 2008, according to Mastercard SpendingPulse. Shares in LVMH, the world's largest conglomeration of high-end brands, lost almost half of their value over the course of 2008. Burberry and Bulgari's shares have also tumbled dramatically. Rolls-Royce, Bentley and Aston Martin all announced job cuts. In the limited-edition design market, the precocious child of the late boom, lots are going unsold and dealers are tight-lipped. "There are luxury brands that are going to go out of business," says Graeme Weston, chief operating officer of NetJets, a company that provides private jets to extremely wealthy clients. "It seems to me that the greatest luxury of all, for these luxury brands, will be the luxury to stay in business."
But, behind this bloodletting, a revolution is taking place. What is dying is a distorted idea of luxury design that reared up monstrously in the debt-fuelled consumer boom of the past decade. Luxury brands are already undergoing a philosophical transformation that could restore them as bastions of good design. More than that, luxury brands may now be in possession of the formula that could reinvigorate every sector of consumer design. Luxury can save the design economy. And it can do it sustainably.
How luxury lost its way
With luxury brands cutting back on jobs, it might seem like a bad time to launch a post-graduate course in "luxury design". But in September 2008, the first 12 students began such a course at the Ecole Cantonale d'Art Lausanne (ECAL), Switzerland's leading design school, taking workshops with silverware manufacturer Christofle and watchmaker Audemars Piguet. But Pierre Keller, ECAL's director, says that the course meets a need that is not being fulfilled. "There are a lot of jobs to take in luxury companies now," he says. "Even Hermès, even Dior, all these companies, they are looking for designers all the time, and they can't find exactly what they want. They have to take them and to teach them."
So what is it that luxury brands are still looking for? "They want to have new ideas," Keller explains. "They want to push their creators, to push their designers a bit. Especially now, with the crunch, all these companies have to be different to each other, so they should be putting much more into creation, much more into new technology, and much more into design. I think it's the best moment to [start the course], because they have realised that now they have to do something special."
Stirred by the crisis, the luxury industry is shaking itself out of a creative slump that has lasted for the better part of a decade. "If you walk down Bond Street or you walk down Madison Avenue, if you took the labels off the goods and you took the signs off the stores, you would see a lot of me-tooism, not a great deal of originality," says Milton Pedraza, chief executive of the Luxury Institute, an American think-tank that surveys luxury brands and their rich clients. In the past decade, Pedraza says, luxury brands have been lulled by prosperity into deep complacency. Pursuing larger markets and higher sales, they let quality slip in order to be more affordable and to produce, for instance, a new bag every season. The sector was further weakened by a rush of new "luxury" firms.
"There's been a lot of disposability built into luxury and, in fact, there have been a lot of brands claiming to be luxury when all they've been is marketing and excess," Pedraza says. "[We have seen] a bit of a bubble … and frankly everybody took advantage of it, and while things were going up dramatically nobody complained."
In that boom climate, quality stalled badly and what might be thought of as aesthetic inflation set in – the easy pursuit of conspicuous consumption. "If you look, for instance, at the watch market, it's very obvious that recently watches have become huge," says Augustin Scott de Martinville, one of the founders of design collective Big-Game and the leader of the ECAL course in luxury design. "If you take a look at the traditional Swiss watch-making companies, all the watches have almost doubled in size in the last decade. It's a bit like cars, you know, it's a bit like this 'Humvee' type of evolution."
Back from the Dead
Those days are now gone. Conspicuous consumption has fallen so far out of fashion that online fashion retailer net-a-porter.com has started to offer "discreet packaging" to "stealth shoppers". "Somebody said to me 'a lot of people are paying for marketing nonsense'," says Pedraza. "[They're buying] this made-up luxury, the sentiment that you have to have a new it-bag just because it's the it-bag, [with] no other value than the label, the notion that you have to buy one of everything for every season, and the notion that you can just accumulate things in your home that are really of no value, but you have the money. That notion of 'Why? Because I can' is going by the wayside."
If Design Miami, the leading collectors' fair, was anything to go by, there is a new mood of sobriety, which has manifested itself as a prevailing interest in simple, natural materials and craftsmanship rather than the exotica and precious metals of the past. The rich's taste for the precious is never going to completely disappear, but there was a markedly different tone. For instance, Miami's Designer of the Year award was won by the Campana brothers, whose installation Diamantina featured the woven fibres of a rainforest plant swamping a collection of plastic objects. Sure, there may have been some amethysts thrown in, but the overall message was clear, and it was the Campanas' most obviously crafted piece for years.
"There's always a market for glamour, but when it becomes really sort of kitsch or completely sending the wrong message I think that's probably not helpful," says Giles Hutchinson Smith, managing director of antiques firm Mallett, which runs Meta, the ultra-luxury limited-edition furniture manufacturer. Meta, which was launched in 2008, is one brand that's attempting to redefine luxury design towards craft. Its furniture features some extremely exotic materials – it showed a golden candelabra by Barber Osgerby this year, and a desk in very rare ancient oak (see "Six new luxury materials", page 052) – but what sets it apart is its emphasis on exceptional craftsmanship and the revival of lost techniques. As Hutchinson Smith says, even in the midst of Design Miami's stratospheric price-tags, value for money has come to count for more than senseless bling. "These slightly crazy projects which are there for getting publicity – huge crystal globes and things like that – that sort of thing will get stripped out," he says. "People want what they're getting to have value, great value. People [now] want functionality and beauty, they don't want a completely over-the-top piece of design."
This applies to the rest of the luxury market outside limited-editions as well, says the Luxury Institute's Pedraza. He sees a profound shift taking place. Brand value – the premium consumers will pay for a brand name alone – is declining rapidly, and so the functional value of luxury objects must increase if their manufacturers want to avoid cutting prices. In other words, Pedraza says, luxury brands are waking up after their collective binge of kitsch and excess to reassert traditional values. "Luxury used to be about buying something that was so high quality, such great material, and such great aesthetics, that it remained a classic for a long, long time," he says. "Luxury used to be great quality craftsmanship, it used to be unique and exclusive, it used to be fantastic service, personalised service – and it's lost a great deal of that."
Importantly, this is an area where designers can make a crucial contribution, producing goods that have this level of long-lasting quality and timelessness. That's why Pierre Keller sees this as the perfect time to introduce a post-grad course specifically dealing with luxury – it's a sector where design has suddenly become more important than ever. That's also the root of NetJets' decision to hire Lord Foster to design the interiors of 33 new jets. "Luxury is no longer about the bling and the fizz and the pop," says NetJets' Weston. "People are looking for timelessness, for a subtleness of quality and for functionality. It's not so important to me that it's gold, and it shines. It's more important to me that it fits in with my life, and that it works incredibly well."
Luxury, Mother of Invention
Not everyone has access to a private jet, of course, but these movements within luxury design could have some profound implications for design as a whole. "High-end design keeps us on our front foot a lot of the time," says Ingrid Baron, director of design for global design consultancy IDEO. "It's a very inspiring avenue for a lot of people to then create mass-market products." In the latter part of the boom, super-indulgent crystal-caked luxury was a source of embarrassment to most designers, and met with a rolling of eyes. But if the so-called "high-net-worth individuals" start to pursue understatement rather than excess, function over decoration, and actual worth over gross expense, then those values will become attractive to others. "I really think that it keeps us moving forward," Baron continues. "I think there's a very aspirational call for [understatement]. I think that that trickles down to the mass market, definitely."
Beyond simply feeding aesthetic cues to the rest of the design world, luxury brands have the potential to be powerful engines of creativity and invention. In Pedraza's view, this is again the traditional territory of luxury brands, which slipped away in the complacency of the past decade. He points to the market in high-end mobile phones, which come slathered in bling and costing tens of thousands of dollars, but which offer no functionality beyond the bog-standard variety enjoyed by the rest of the market. "If you're a luxury brand, you should be the innovator," Pedraza says. "You should be Apple, you should be beyond Apple."
Ultimately, the real casualty of the bust could be the culture of disposability that grew in the splurge years. During the boom, there'd be a new "must-have" luxury bag every season, and you could pick up an armful of T-shirts on the high street for what felt like next to nothing – it didn't matter too much if the seams on either item gave out in a matter of months. Now, faced with combined economic and environmental crises, luxury brands are seeking to return to making very high-quality, long-lasting goods that are not at the mercy of fashion – the quality of timelessness. With luxury design again setting the creative agenda, and communicating its rediscovered values to the rest of the design world, the result would be a revolution in consumer thinking. Instead of buying many cheap and short-lived things, we would buy fewer, more expensive things that would perform extremely well and last far longer.
Again and again, people working with luxury brands say that the real luxuries are time, space and peace; the final irony is that luxury brands could prompt us to re-evaluate our relationship with material things. "I think that actually you will reach a point when you actually think that you're not getting happier if you just buy and buy things," says David Carlson, founder of the David Report on design trends. "You actually stop and think, OK, maybe it's time to plan what I buy, how I live and what I do. That's a kind of a luxury design, planning for yourself and how to be satisfied in your relationships with your surrounding possessions."
words Johanna Agerman
Six new luxury materials
Carbon Fibre was the "it" substance of 2008. The black stuff suddenly became scarce when Boeing started manufacturing 787 Dreamliners made out of it in 2007, and as the price rocketed so, apparently, did its appeal to designers. In the last year Ross Lovegrove created the world's lightest cabin suitcase for Globetrotter in carbon fibre, and Konstantin Grcic and Marc Newson used it to make a recliner and a ladder respectively, both for Galerie Kreo. And there's a generous helping of carbon fibre in Lord Foster's interior for the NetJets 7X (page 055).
Concrete is a rather surprising arrival on the luxury design scene. French designer Martin Szekely has made a series of "Consoles" for Galerie Kreo in Lafarge's ultra-thin Ductal cement, and German Alexa Lixfeld has produced tableware in her own concrete mix, Creacrete, which is suitable for glazing.
Sapphire crystal keeps cropping up in the descriptions of luxury goods. It's transparent and extremely hard (measuring 9 on Moh's scale where only diamond is harder at 10). These useful scratchproof properties have long been known to watchmakers, and are now in demand for the booming market in luxury mobile phones for things like lenses, screens and keypads.
Bog oak isn't strictly speaking new – it's rare prehistoric timber, and to get it you have to wait by a peat bog for a dead tree to burp up. Then it has to be whisked to a kiln for drying and immediate de-oxygenation, otherwise the wood, which is more the 5,000 years old, will disintegrate. It captured our hearts when Meta showed three bog oak Wales & Wales writing desks in Miami (page 044). For the price it fetches the name is entirely inappropriate.
Nickel is proving popular with Marc Newson – he dips almost anything in the stuff. In 2006 he nickelplated a surfboard with a foam core, apparently producing the perfect weight of board for big-wave surfing. Electroless nickelplating is expensive and labour-intensive – perfect for the limited-edition market, then.
Marble was safely in the history books, we thought, until it suddenly came into fashion. Again, it was Marc Newson who kicked off this fad with a show of carrara marble work for the Gagosian in 2007. Established & Sons rendered its entire limited edition range into marble later that year for the London Design Festival. And when Fredrikson Stallard launched its King Bonk chair at David Gill gallery last autumn, the designers expressed interest in making an edition in black marble. Yes, yes, design-art, furniture-sculpture, chair-statue, we get it, you can stop now.
Five Craziest Luxury Launches of 2008
The Jagger Dagger
A $250,000 icepick designed by Jade Jagger to promote Belvedere vodka. The hilt is white gold, studded with diamonds, sapphires and lapis lazuli. If a quarter of a mill is a bit steep for you, not to worry, there's a $10,000 version with topaz instead of diamonds.

Samsonite Black Label 
Swarovski Trunk
Wherever there's a branded product in need of a bit of expensive publicity, you'll find Nadia Swarovski with a sack of her magic beads and a pot of glue. The Samsonite Black Label Swarovski Trunk is a bit of retro luggage entirely covered in crystals. It's an endearing display of faith in the baggage-handling profession.

Vertu Boucheron 150
Developed for Paris jeweller Boucheron's 150th anniversary, this mobile phone is carved from solid gold ingots, has a sapphire keypad and it comes in a walnut box designed by Reuge, a Swiss luxury firm that makes music boxes. When you get a call, it goes "bling, bling".
Veuve Clicquot's ostrich skin labels
"It sounds like satire, doesn't it?" we said in a January 2008 leader that now looks 
bitterly prescient (icon 055). The $4,000 cooler Karim Rashid did for Veuve could also have gone in this list.
Billionaire Couture umbrella
A crocodile-skin umbrella that costs $50,000. We would have thought that the target audience for this sort of thing wouldn't want an expensive reminder that they can't control the elements.
All images: Andrew Penketh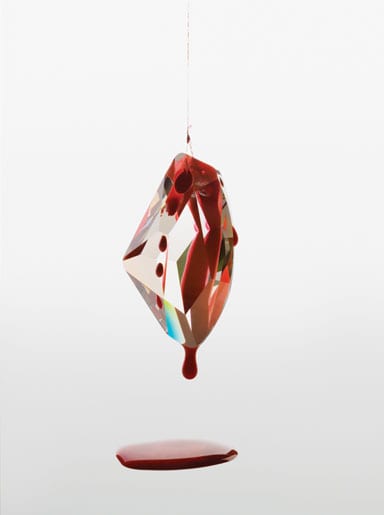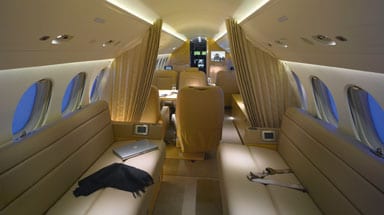 ---