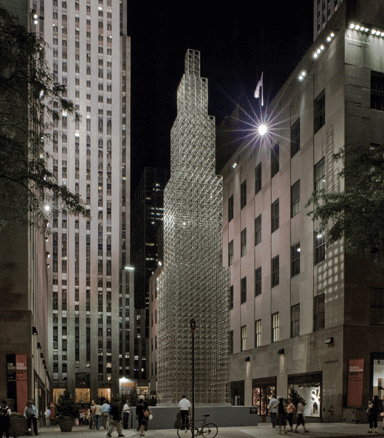 words Johanna Agerman
The Rockefeller Center in New York has a mini-me in its shadow. The 20m-high sculpture, What My Dad Gave Me, is by American artist Chris Burden, and has a childlike enthusiasm to it. The piece was built from one million replica Erector pieces – the American equivalent of Meccano – and assembled by 30 people equipped with screwdrivers.
The choice of form is appropriate to its materials – it was the introduction of skyscrapers to New York that inspired Alfred Carlton Gilbert to invent the Erector set in 1912, quickly becoming the material of choice for young hobby engineers.
Burden became infamous for his controversial performance piece Shot in 1971, for which his assistant shot him in the arm. Equally obsessed with pushing the limits of possibility, What My Dad Gave Me seems like the work of a boy with a deep-rooted hyperactivity disorder.
The piece, which was funded by the Public Art Fund and hosted by Tishman Speyer, co-owner of the Rockefeller Center, will be in place until mid July.
images Wade Zimmerman
top image One million Erector pieces make up the 20m-high structure
---