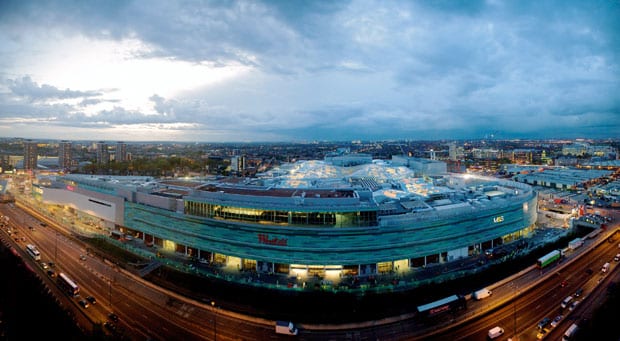 words William Wiles
Carve out 43 acres of shed, fill it with cash registers, scrape on a thin layer of aesthetic jam and call it an icon. Welcome to the UK's biggest mall, a "five star" environment. William Wiles stares into the abyss.
First, the name: it's Westfield London. There's no definite article, and it is certainly not the Westfield Centre. That would have all the wrong connotations: it's parochial, unglamorous, with shades of comprehensive redevelopment and the 20th century. This carefully calibrated name, in a curious typeface perhaps taken from a 1960s Las Vegas casino with a medieval England theme, now overlooks west London from the commanding heights of an astonishing slab of development. This wedge, 43 unavoidable, introverted acres of white, grey and sea green, dominates the suddenly toy-like terraces of Shepherd's Bush.
The Westfield Group's £1.7 billion behemoth, the largest urban shopping mall in the country, is certainly already a landmark. But the publicity goes further. Westfield London, it says, sets a new standard for shopping in the UK, providing a "five star" environment, whatever that means. And Westfield is of course "iconic". Our attention is drawn to the undulating glass roof, "one of the most iconic features".
This "architecturally stunning" building, however, has a bit of a problem with architecture. Part of a Rem Koolhaas masterplan, the centre was originally designed by Ian Ritchie, who got the push when Westfield took over the project from fellow Aussie developer Multiplex in 2005. The architectural credit is now claimed by "the in-house Westfield team".
What architecture is left with, now that the value engineers have fled the scene, amounts to that roof and the luxury "Village". Most of the rest of the centre is … a shopping centre, which is to say an insipid nothing, drab, glossy acres of plain cladding and beige terrazzo. Above it all is that wobbly roof, which is supported by some tree-like columns over the vast central atrium space. This is a dispiriting view of architecture. It is a thin layer of aesthetic jam scraped over a doorstep of moneymaking shed.
Elsewhere, this is solid junk space on an overwhelming scale. It is huge, and bewildering, and its internal distances can be exhausting. And it's a space shaped by the flow of money into a strangely explicit class structure. The larger, grander retail units are all on the upper level, and it is here the premium brands have mostly congregated. The lesser chains are in the lower space. Habitat above, JD Sports below. And for a centre that promises a new standard in UK shopping, in some places it's drearily familiar – low ceilings and a sense of doom. But there are some shops that Westfield would not touch, lest they corrupt the Experience: charity shops, pound shops, burger bars. These are consigned to the outer darkness, poor old Shepherd's Bush, which now, thanks to Westfield, can never aspire to anything better than Chicken Hut and Poundstretcher. Westfield claims that it will regenerate the neighbourhood. How many Bluewater shoppers top off their visit to the Kent mega-mall with a browse around Dartford?
Back indoors, a world away, there is The Village, where Westfield's clutch of designer stores – Versace, Louis Vuitton, Tiffany, that gang – are gathered. This prestige mall-within-a-mall, a "luxury space", is designed by an actual architect, Michael Gabellini. Every surface is white, every edge is curved, and pink light radiates down from grandiose chandeliers; luxury, it seems, is wholly feminine.
In the rest of the centre, designer curvy whiteness is mostly evident in the cornerless, glowing signposts that are dotted here and there, and the bracelet-shaped touchscreen "intelligent maps". The influences here are Jonathan Ive and Karim Rashid; the aesthetic draws on fashion and consumer goods rather than architecture or a sense of shared space. It's fine for the building to be bland and baffling, as long as a designer electronic object can tell you which way to go. A mall is a mall, and if Westfield really wanted to be more than that – an icon, even – design would have to shape the space. Here, it's just decoration, part of the branding strategy.
Maybe Westfield will prosper, draining money and life out of the surrounding boroughs. It could be the shape of things to come, an air-con, CCTV-covered future where we swan about amassing Nectar points on our ID cards. Or, alternatively, it could be a dinosaur with the poor luck to be born after the asteroid strike. Westfield's timing, of course, could not have been worse, with the UK already in recession and joblessness soaring. We're not likely to see another debt-driven retail boom like the one that birthed this beast any time soon, and malls don't adapt well. But whether it thrives or fails, it's hard to see Westfield as anything other than a blight on the city.
www.westfield.com/london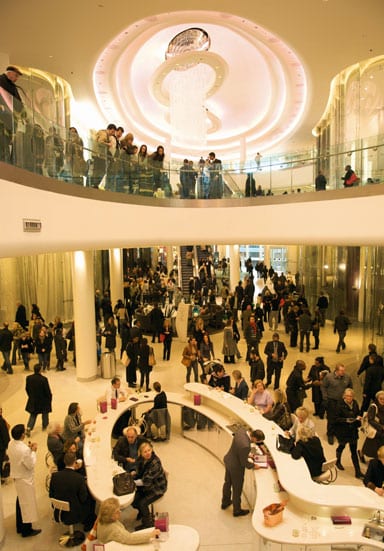 ---