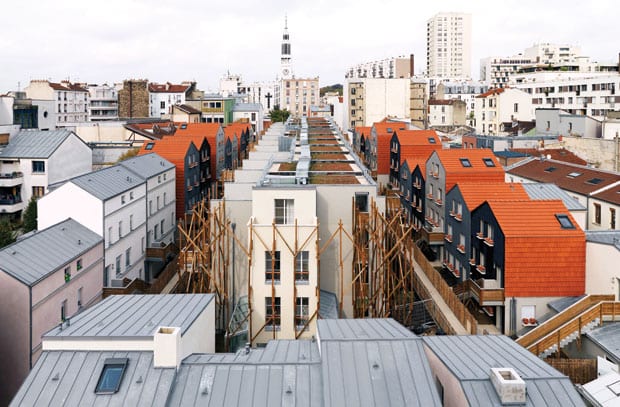 words Johanna Agerman
Villas des Vignoles is meant to be a slice of paradise in Paris' 20th arrondissement. Designed by "green" architect Edouard François for social housing developer Paris Habitat, it's the first Parisian social housing project with organic soil gardens.
The block is a labyrinth of narrow alleys and the buildings, which contain 98 apartments and 11 artist's studios, blend in with the surroundings. The only structures facing the main street are two small greenhouses where the residents keep their mailboxes, in between banana crates and flower pots. "I didn't want to build on the street, because as soon as you build on the street, it looks 'achieved'," says François. "That's why I chose to build all the density inside the block and not to do anything on the front. It's not a facade project."
Villas des Vignoles, or Eden Bio as it's also known, is like a picturesque enclave that tries its best not to come across as too designed. The most eye-catching feature is the flanking terraced houses, which borrow their shape from the local vernacular. They are alternately clad in coarse concrete and zinc or copper panels, and a red shingle pitched roof ties them together like a ribbon.
But the key feature of the project is still to develop. François spent 4% of the 
€10.7 million budget on the ground, cleaning it of pollutants and adding organic soil, but nothing will be planted until March. "You don't see any plants, but it's like a promise," says François. "And I like this idea that you can see things with your brain and not obviously with your eyes. In three years it will be totally green."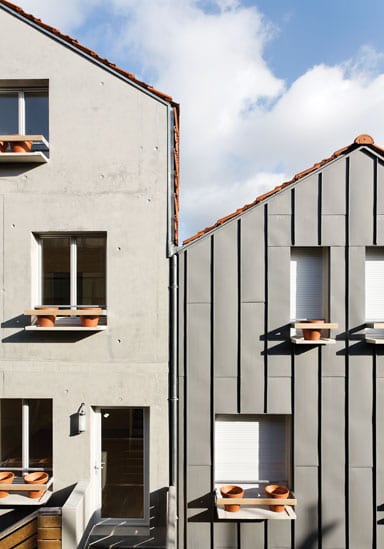 ---