words Justin McGuirk

Aaron Betsky's intriguing theme is wasted on the global architecture elite. If there were any justice, this show would be their obituary, says Justin McGuirk.
There was a lot of talk at the 2006 Venice Biennale about the irrelevance of architects. The theme that year was "Cities", and the message that visitors took away from the barrage of statistics about urban population explosions and favelas self-replicating out of control was that, compared to these facts on the ground, architects were offering up little more than niceties and baubles.
Then along comes this year's director, Aaron Betsky, with a theme that suggests the radical potential of architecture: "Beyond Building". Here, I thought, was a chance to showcase an emerging generation of activist architects tackling urban issues in ways that are nimbler and more tactical than buildings (see our cover story). Instead, this show proves more conclusively than 2006 just how irrelevant architects can be when they really put their minds to it.
Betsky's ambition was to demonstrate that architecture is more "critical" and "engaged" than the dumb "box" of the building can convey. Yet as you walk through the Corderie, the long room once used to make rope for the Italian navy that is traditionally the intellectual spine of the biennale, disillusion soon sets in. There is a series of vertebra-like objects by Asymptote, a landscape of morphing furniture that you can't sit on by Zaha Hadid Architects, a section of a building by Frank Gehry made of wood and clay, and two overblown green oblongs by Massimiliano Fuksas containing little films about domestic life. What do we learn from all this? Very little. What's worse, it's not even entertaining.
Far from critical and engaged, the work gathered here is hermetic and self-absorbed. This is the predictable output of a particular stratum of architects, embodied by Gehry and Hadid, who just do what they do, and are either unable or unwilling to adapt their methods to a new question. Ask them to address "Architecture Beyond Building" and they merely phone in the answer, which is something that looks suspiciously like one of their buildings, only much less useful.
Greg Lynn sums up the tension in the Corderie unequivocally in one of the manifestos lining the room. "It is irresponsible not to focus a biennale on buildings," he writes. "It is scandalous to promote the art of architecture." Frankly, I think that says it all: architects do not make very good artists. The tactics on display here – the gymnastic forms, the acid colours, the overpowering scale – are diversionary ones, distracting us momentarily from how pointless these objects are.
If there is any truly experimental work in the room challenging the materiality of buildings it is Philippe Rahm's installation, which uses hot and cold platforms to create a convection of air that mimics the Gulf Stream. In Rahm's world, climatic and atmospheric conditions are the real stuff of architecture, not walls and floors. It is a shame that this subtle ecosystem is lost on the vast space of the Arsenale, and even more so that he had invited a bunch of naked hippies to interpret it by playing xylophones and saws. Obviously he was trying to make the invisible tangible, but it was like a parody of the Sixties.
It felt at times as though the architecture avant-garde has made no progress. In fact, there is a piece in the show by Coop Himmelb(l)au – a Barbarella-esque biofeedback machine in a plastic bubble – that was actually designed in 1969. It's a useful reminder that we've been here before. It was only by chance that I happened to see the catalogue of the 1978 biennale, and there are remarkable parallels with this one. Under the theme of "Topology and Morphogenesis", the biennale broke into two camps: radical design practices like Superstudio, critiquing the system, and those concentrating on tectonic and self-generating forms. It is the same this year. The irony of Betsky's biennale is that his theme is addressed far more radically and coherently by the national pavilions in the Giardini than in the nerve centre of the Arsenale.
Trust the Dutch to curate a pavilion so right-on that it consisted entirely of seminars by that very generation of activist architects I alluded to earlier. You could hear Teddy Cruz, Stalker, Stealth, Platforma.981 and other "interventionists", talking about other ways of changing the urban environment than making buildings: through local initiatives, events and tactical insertions. Yes, it was a little long-winded, but the whole point of this kind of work is that you can't reduce it to a single image.
The American pavilion, too, was in the right spirit. It wasn't the most exciting to look at, but here were experimental yet practical solutions to specific problems of migration, poverty and urban decline. And there were some rather revealing contrasts: Rural Studio's animal shelter in Alabama looked like Shangri-la against Laura Kurgan's research into the prison population of Brooklyn.
If the British pavilion completely ignored the theme – as national pavilions often do – at least it did so in an instructive way. These housing projects by five of Britain's best sensitive-but-worthy-neo-modernists showed how much more useful architects are to society when they're actually trying to house people than when they're trying to dazzle us with their creative genius. Unfortunately it was no reflection of the real state of contemporary British housing, or, rather, doll-housing. The rejected proposal to fill the pavilion with Barrett homes would have been far more pointed, and funnier.
In the end, the moments that really stood out at the biennale were provided by works that you just got immediately. The Estonians ran a fat yellow gas pipe through the Giardini that was forever in your way, and it was brilliant. Evoking the very one that Gazprom wants to build from Russia to Germany (across Estonia), the piece says, How would you like it?
But, for my money, the best work this year was by an artist. In the portico of the imposing neo-classical (Nazi) German pavilion, Siegrun Appelt hung rows of industrial-size spotlights that made an almost biblical light shine out of the building. The lamps were so ferocious that you couldn't stand under them for long without burning. The physical impact of this light on your body was the most potent manifestation of a non-built architecture in Venice. It takes an artist to realise that kind of immediacy, and the architects in the Arsenale looked terribly ponderous by comparison.
www.labiennale.org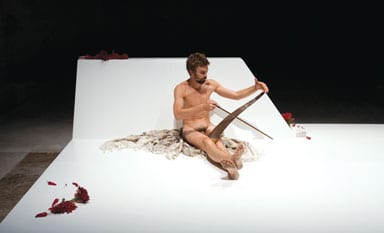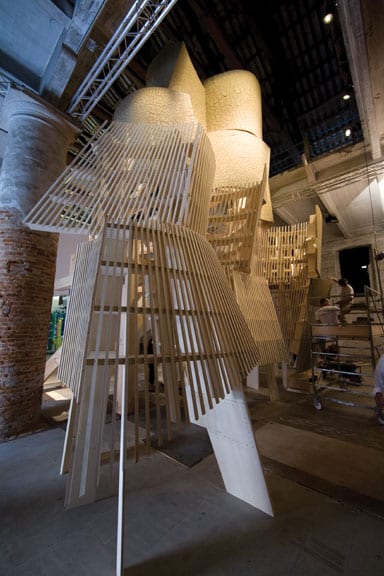 ---