words Alex Pasternack
"Like a Mondrian painting" is how architect Zhang Lei sees the facades of his two brick houses outside the town of Gao Chun, in China's Jiang Si province.
Nanjing-based Zhang added sophistication to the brick skin – which sits atop reinforced concrete slabs – by using three different textures. Where the facade isn't flat, an interlocking pattern leaves perforations between the bricks, creating a sense of porosity. Elsewhere, protruding bricks draw shadows along the wall.
From afar the textures, arranged in rectangular patches and punctuated by the occasional portal or window, also add another geometry to the facade. "These different patterns along with the openings create a surface of these abstract geometric shapes," says Zhang.
Because the project is located one and a half hours from the nearest city – the provincial capital of Nanjing – the architect chose to rely heavily on red bricks made in nearby fields. "The design was quite natural," says Zhang. "For me, architecture is about the materials and construction. Around the site, you can see a lot of buildings all made from the same bricks."
The playful facades belie the houses' sober inspiration: the traditional, inward-looking Chinese courtyard. "The courtyard is the void but also the soul of the house in my point of view," says Zhang. The larger home, for the family of a government official, surrounds a central "meditation courtyard" on only three sides, allowing an expansive view of the neighbouring lake from a double-floor living room.
In the smaller house, commissioned by a local poet, Zhang has arranged two L-shaped buildings around a smaller courtyard to provide more privacy. A glassed-in room for parties and exhibitions provides views of the lake from the courtyard, where a small wooden tea house sits like a piece of sculpture.
Zhang, who is accustomed to designing public buildings, says the commission was a rare lesson in small scale. If Western architects start small, says Zhang, "here it's the other way around. You don't have so many chances to do projects like this."
images Iwan Baan
top image The two neighbouring houses are made from concrete slabs clad in local red bricks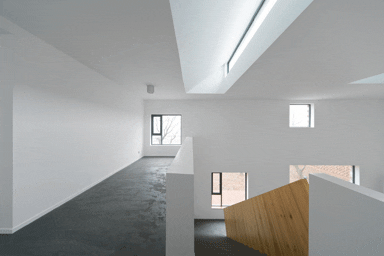 In the larger house windows give out to views of a "meditation courtyard" and lake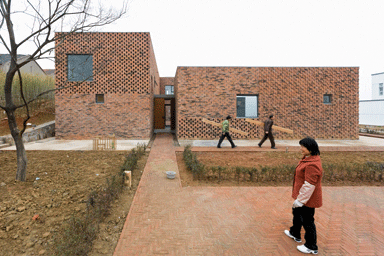 The facades' scant openings only hint at the courtyard within

The three-sided meditation courtyard of the larger home
---