words Ana Vukadin
Tetris blocks frozen in mid air come to mind with Atelier Tekuto's latest project, Twin Brick House in Saitama, a suburb of Tokyo.
The geometric forms of the white apartment blocks, completed in January, bring to mind early computer games – a characteristic seen most vividly in the western tower, with its play between concrete and glass blocks and steel balconies in different configurations.
"The first time we used glass blocks was in our Crystal Brick project, where it was the main building material," says Yasuhiro Yamashita, head architect at the Tokyo-based practice. "Here we were dealing with a smaller budget, so we decided to combine the glass with ALC, a type of lightweight concrete. I think this combination of the two materials challenges perception – it's almost ambiguous whether this building is structurally stable with the ALC or glass blocks."
The brief for the project was simple: one block to house five one-bedroom flats and the other a two-family space for the owner. "Besides being adamant about his desire for a parking space facing the road, our client gave us lots of freedom with the design," says Yamashita.
The more sombre eastern block, destined for the owner, is made entirely of reinforced concrete and has rooms that cantilever from the house, painted in dark grey. "We wanted to create a contrast between the two buildings – one bright and light, and this one of a more dark and heavy image," says Yamashita.
In both buildings the minimalist style continues into the white interiors, only broken by bright yellow and blue strips in the bathrooms.
images Makoto Yoshida
top image Rooms painted in dark grey cantilever from the eastern block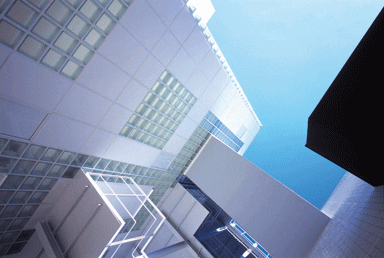 The western building combines glass blocks and ALC concrete
---