words Roberto Segre
Álvaro Siza is the first international architect to design a major museum in Brazil, following aborted schemes for a Guggenheim in Rio de Janeiro by Jean Nouvel and a Museum of Modern Art extension in São Paulo by Bernard Tschumi.
The Iberê Camargo Foundation Headquarters, in Porto Alegre, in the south of the country, is built from the familiar white concrete first used in the construction of Brasilia by Oscar Niemeyer.
The building, eight years in the making, was designed to house a huge collection of paintings, drawings, gouaches and prints by the artist Iberê Camargo, one of the most famous Brazilian expressionist painters of the last century. Situated on a tight triangular plot, the main volume of the museum was conceived as a white cliff with views over the water, marked out against the surrounding lush green landscape. The curve of the facade facing the road, wrapped with walkways, is a metaphor of the human heart enveloped with arteries and veins feeding it with life.
"Although each detail is important, the governing feature is the totality," says Siza. "Equilibrium is the underlying quality for architecture." The building has traditional museum qualities in being quite dense and heavy, but it is also free of supporting columns, which gives the interior an open, modernist feel.
Internally there is a direct reference to Frank Lloyd Wright's New York Guggenheim Museum: an elevator gives access to the upper level, from which a series of ramps – external and internal – descends through galleries bathed in white light. "In museums, the light should be soft, careful and inoffensive to experience," says Siza.
The museum, the design of which won the Golden Lion Award at the 2003 Venice Architecture Biennale, is Siza's second building in Latin America – the first was a municipal centre in Rosario, Argentina, in 2002.
top image Leonardo Finotti
The building was conceived as a white cliff against the water
images below Fernando Guerra + Sérgio Guerra
Click here to comment on this article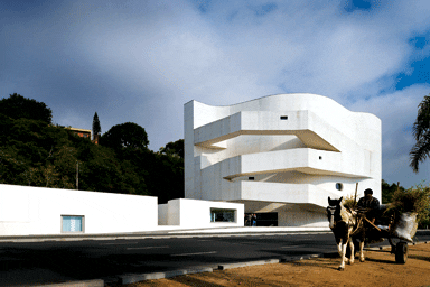 Walkways wrap around the exterior curve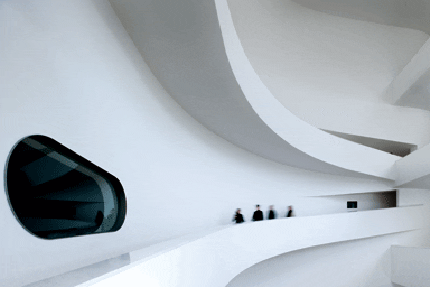 The interior is reminiscent of the New York Guggenheim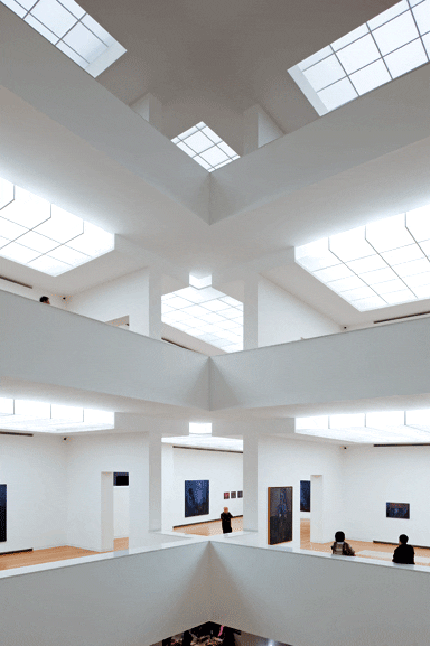 The stark galleries are bathed in white light
---