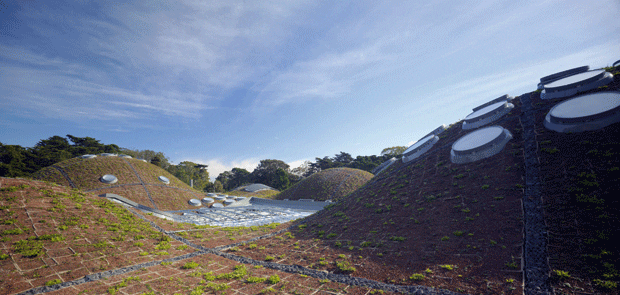 words Diego García Scaro
A living roof covers the headquarters of the California Academy of Sciences in San Francisco. Designed by the Genoa-based Renzo Piano Building Workshop in collaboration with local practice Stantec Architecture (formerly Chong Partners Architecture), the building stands in the vast expanse of Golden Gate Park, facing Herzog & de Meuron's De Young Museum.
Under its undulating profile – a response to the surrounding landscape – the roof integrates the academy's collections, research facilities and exhibition rooms into one 38,000sq m space. "One of the most important considerations was to determine what the appropriate building type would be for the park," says project partner Gordon Chong. "Renzo decided to take a knife and cut a slice of ground plane, and raise it 12m right into the tree line."
Constructed from recycled steel, the roof supports over one tonne of soil and native plants, and is central to the building's ecological performance, providing thermal insulation and minimising rainwater run-off. Porthole-like skylights open and close to control air circulation, which is enhanced by the roof's sinuous outline, while natural light penetrates deep into the building, where sensors dim or intensify artificial light. On its perimeter, the roof projects outwards forming a flat canopy filled with visible solar cells, which not only generate up to 15 per cent of the academy's energy but also serve as decoration.
Below roof level, the building is a massive glazed box, allowing for uninterrupted vistas out to the park. "We also wanted inside and outside to connect," says Chong. A glass sphere serves as a spectacular four-storey promenade that recreates rainforest environments and culminates on the rooftop, while a second spherical room houses the planetarium. The difficult task of combining the privacy of research and the openness of exhibition spaces is well handled by the flexible plan, with an open plaza at the heart of the building that visually connects the different levels and serves as an orienting space.
images Tim Griffith
top image The roof's undulations accentuate the shape of interior structures such as the planetarium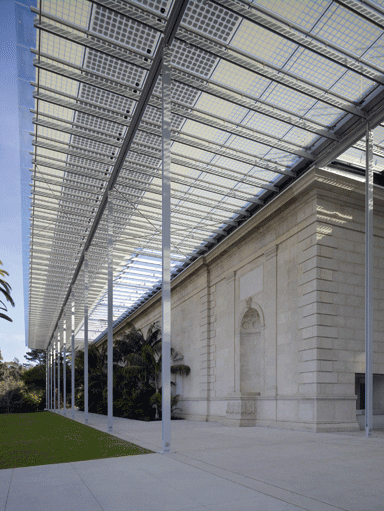 The solar canopy covers the preserved neoclassical facade of the old headquarters

Biodegradable coconut husk trays were used to plant native specimens on the roof
---