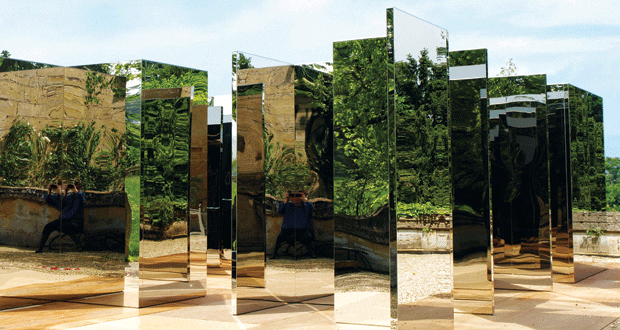 words William Wiles
The Artists' Playground is an exhibition of new work by 15 artists, designers and architects in the grounds of Sudeley Castle, Gloucestershire, themed around leisure and recreation. Contributors to the show include Ai Weiwei, Zaha Hadid, Tom Dixon, Arik Levy and Carsten Höller.
This is the fourth annual exhibition of contemporary art at Sudeley, and was put together by Elliott McDonald, curator of the Hiscox Collection, and Mollie Dent-Brocklehurst, the former Gagosian director whose family owns the castle.
The show-stealing piece this year is Jeppe Hein's Simplified Mirrored Labyrinth, a reflective maze that's attractive from the outside and thoroughly unnerving from the inside. Combined with the stately home setting, it's not unlike a lo-fi but effective bit of stagecraft from the surrealist 1960s TV show The Prisoner. Another work in the same vein is Henry Krokatsis' Ambo, a church pulpit stranded up an ancient tree, which the artist says balances an ecclesiastical "grammar of transcendence" with the escapism of a tree house.
Richard Woods' jaunty doors created a funfair atmosphere, and a couple of artists made brave but unsuccessful stabs at building rides. The iron fist of health and safety meant icon couldn't use Höller's Flying Machine mechanical trapeze, and Hadid's Z-Stream, a joyless piece of routine biomorphic formalism, didn't seem to be steep enough to use as a slide.
Artists' Playground runs until 31 October, and all the works on display are for sale through auction house Phillips de Pury.
images Duncan Ward
top image Simplified Mirror Labyrinth I by Jeppe Hein

Lifestyle Sculpture by Richard Woods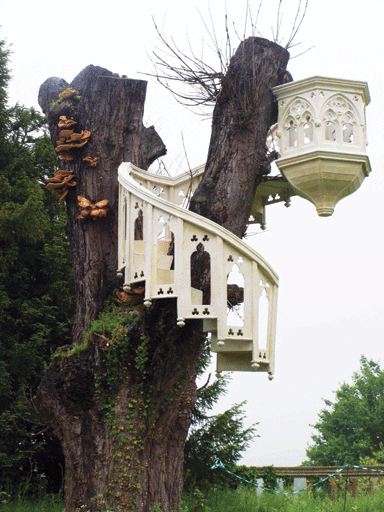 Ambo by Henry Krokatsis
---