words William Wiles
Spam Architecture is a project by Romanian artist Alex Dragulescu that turns junk emails into abstract artefacts. At the moment, the only results of Dragulescu's process are these striking computer renderings – but he says that he is working on a way to turn them into wooden "flat packs".
The project uses an algorithm, written by Dragulescu, that treats the unsolicited nuisance emails as pure information. This algorithm takes a simple starting shape, normally a cube, and then mutates it step by step as it works through the email. What happens to the cube depends on the structure of the email – for instance, longer words add elements to the structure and short words delete elements.
"[The algorithm] would take a corner of the cube, or its edge, or its face, and it would move it away, or it would erase it… or move it up or down," says Dragulescu, who developed Spam Architecture as part of his Master of Fine Arts degree at University of California San Diego.
The forms that ultimately emerge from this process of mutation bear strong resemblance to constructivist sculpture. But Dragulescu cites Marcel Duchamp as the artistic touchstone of the project. "I think we're in the artistic position where we have to rethink the materials used in making art," he says. "There is the found object in art, and also there are lot of artists using interesting materials, using trash… this [spam] is trash." The project takes something that is, at best, an irritant, and turns it into something of worth.
images The forms of Alex Dragulescu's Spam sculptures were created by the contents of junk emails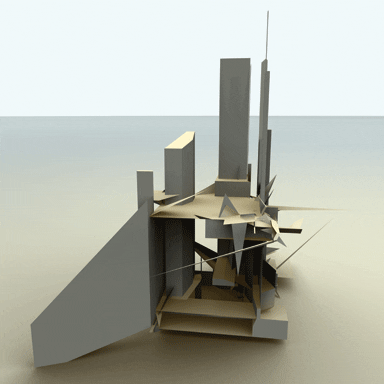 ---