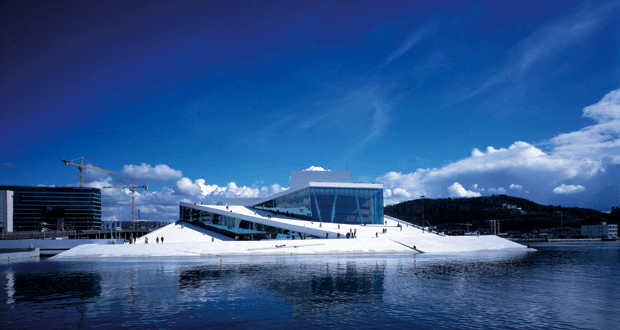 words Oliver Wainwright
A rogue iceberg has crashed into the eastern edge of Oslo's harbour, trumpeting the brash arrival of waterfront regeneration. This €500 million stone behemoth, designed by Norwegian firm Snøhetta, is home to the city's new opera house, the first step in a plan to develop the city's run-down Bjørvika docklands.
"It's trying to be accessible to all kinds of people," explains Kjetil Thorsen, founding partner of the practice. "You can walk all over the roof and even take your bike through the lobby."
Rising at a precipitous 1:6 gradient from the fjord below, the 20,000sq m marble rooftop acts as a public carpet, intended to attract weekend picnickers, skateboarders and other thrill-seekers in search of extreme public space. "It's not at all commercialised," says Thorsen.
"The people own the ground." Whether ageing opera-goers will brave the slopes is another matter – during a public preview, three visitors were injured and one broke their arm. "I think we have a different way of relating to more challenging grounds," says Thorsen, confident that the Nordic mountaineering gene will prevail. "But I don't know how our foreign guests will manage."
The interior is a more sedate affair of undulating oak walls that engulf a conventional 1,400-seater, horse-shoe auditorium, as well as a 400-seater black-box theatre for more experimental productions. A full-time staff of 600 is housed in an aluminium-clad "factory" of rehearsal spaces, offices and workshops, which present a rather ordinary back-of-house facade to the east – turning its back on the very community it has invaded, as one local resident commented.
images Nick Kane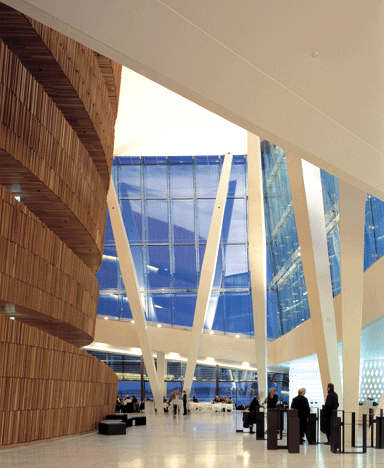 A tall oak wall separates the auditoria from the foyer
---