words William Wiles
Why does Singapore have a design festival? It's certainly a popular destination for other countries: the Swedish government has taken over some of the city's bus shelters to trumpet its national design classics, like ballbearings and Tetra-Pak.
There's Italian Genius Now at the Emily Hill arts venue. At the old City Hall, there's Brazilian, Korean and Japanese design. There's Swiss architecture at the Vivocity shopping complex, and there are five small exhibitions on Australian design, under the banner OZmosis. Where's the Singaporean design?
Like expos, design festivals have a lot to do with national branding, and it makes sense for Singapore to position itself as a global meeting place. But you'd think there would be more indigenous work to see. After all, Singapore needs design. A tiny island without natural resources – even drinking water is imported – it relies on the skills and talents of its 4.6 million people to compete in the world economy against its huge Asian neighbours. For a quarter of a century after independence in 1965, its prosperity was founded on fiscal and social conservatism, state micromanagement and a hardcore work ethic. But then the state realised that national self-discipline and world-class street cleaning were all very well, but man cannot live by bread alone.
"By the 1980s we had recognised that we had to invest more in the soul of the country," says Koh Lin-Net, deputy secretary for media and the arts at the Ministry of Information, Communications and the Arts. Having sunk more than S$1billion into the creative sector since 1989, it now comprises 3.9 per cent of Singapore's GDP, and the government wants that to rise to six per cent. In a state that is keenly aware of the precarious nature of its continued existence – where dioramic displays about the threat of bird flu and SARS fill the atria of government buildings and all new dwellings come equipped with an Israeli-designed civil defence shelter – a creative economy is seen as an integral aspect of national survival. And, says Koh, "we are now ready to be more aggressive in promoting ourselves to the world."
To aid this promotion, the national Design Council was founded in 2003 and the first biannual design festival was held in 2005. The government will have spent S$48million on design between 2004 and 2008. And it's not as if there's no such thing as Singaporean design. There are an estimated 5,600 design firms in Singapore, contributing S$2.1 billion to the economy annually. It's a regional heavyweight in advertising, graphic and web design, with respected studios like Spoon Creative, Groovisions, Lim Sau Hoong's 10AM Communications and Phunk, the last two of which won President's Design Awards this year. (What other country cares so deeply about design that the industry awards are given out by the President?) It has a burgeoning digital media and animation industry, the product of S$500million government investment over five years. There's a local fashion scene, although not one that would create much of a stir if it were transplanted to London. But there's precious little creative product, furniture and conceptual design, and what little there is fails to set the pulse racing.
The best of what there is of Singaporean design was divided across the festival's flagship Utterubbish and 20/20 exhibitions. Utterubbish was a sprawling affair at the old City Hall, mixing some local work with international designers such as Martí Guixé, Stefan Sagmeister, Benetton and KesselsKramer. 20/20 limited itself to 20 Singapore natives, and there was noticeable overlap between the two. Little Red Dots' Hanami ceiling fan, for instance, is a neat idea – it reuses the disposable fans given away by restaurants – but when there's not much else beside it and a chair or two, it makes a thin contribution to an exhibition, let alone two exhibitions. Similarly, Christopher Lee's Asylum is probably the best design company working in Singapore today – but its only contribution to Utterubbish was a notebook clad in recycled flyers. Again, a cute idea, but not enough.
It's not clear if this general sense of ideas being thin on the ground is really a fair assessment of Singaporean design, or if – as one prominent local designer complained to me at Utterubbish – it was the result of government-inspired curation favouring the jetlagged international names over the small indigenous scene.
This is one of the curiosities about the Singapore Design Festival: it has a remarkably strong didactic flavour to it. The intention seems to be to inspire Singaporeans to be more creative by exposing them to the fruits of the creativity of other nations, with the slightly paternalist implied message "now do this yourselves". This intent was pretty clear at an exhibition called I Am A Creative Person (IAACP), curated by Christopher Toh. Toh is founder of ANT Industrial Design, which produced some of the most confident work that icon saw in Singapore. At IAACP, held in the old Supreme Court building, a little of Toh's work was exhibited next to design from Japanese studios. The display is intended to make Singaporeans think more creatively, says Melissa Whittington, a colleague of Toh's: "They need more help. They need to see what else is going on in the design world."
Having seen this display, visitors were directed into a hallway next to it, where they were encouraged to come up with their own ideas. Pens, pencils and paper stood ready to receive visitors' suddenly burgeoning creativity, but sadly when icon visited there were no takers, perhaps because it was raining. Next door, at Utterubbish, there was a similar space adjoining the exhibition – see the show, now come up with ideas. The Singapore Design Festival is perhaps the only one in the world that sets homework.
Will it work? Can a thriving creative sector be created by state fiat? Firstly, although the well-meaning hand of the Singaporean government can be seen almost everywhere, there is some evidence of a bit of independent initiative from the populace. Entrepreneurs like Nathan Wong of Air Division and Asylum's Christopher Lee are building a design retail infrastructure that is purposely not based on import alone, and in October 2007 Ken Chong and architect Andrew Lau set up the Old School, an ICA-like arts venue on Mount Sophia. Secondly, it's never wise to underestimate the determination of the Singaporean state. "The ability to get things done in Singapore is unsurpassed," says Dick Powell of British design practice Seymour Powell. "If they decide to do something, they fucking get it done. You can imagine in Britain they'd still be talking about it."
top image Left to right: Salt and pepper shakers by Christopher Toh; packaging by FLOWmarket (Denmark); Martí Guixé; Melissa Whittington; Story chair by Outofstock; X-Ray chair by Little Red Dots

Recycled-flyer notebook by Asylum

Packaging design by Kinetic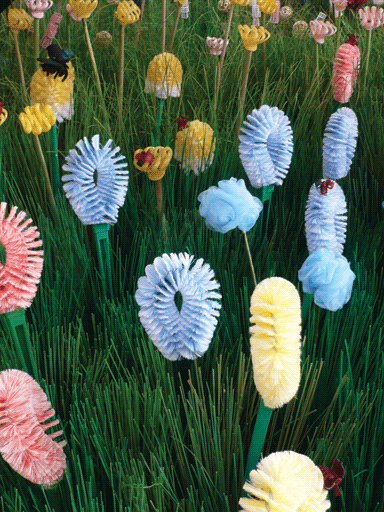 Donna Ong's plants made from cleaning products at Hybricity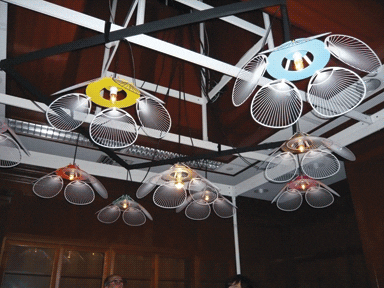 Hanami by Little Red Dots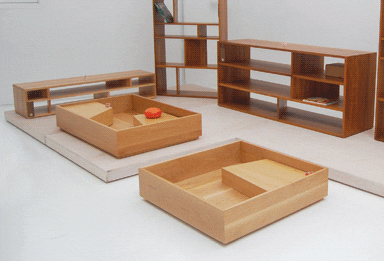 Island coffee table by Air Division with Voonwong Bensonsaw
---