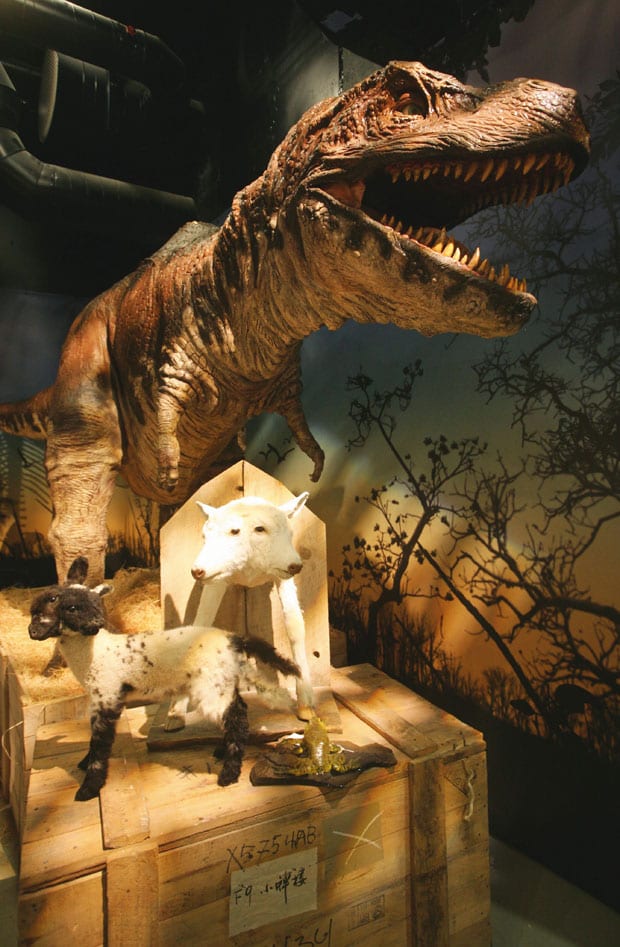 words Anna Bates
Barnyard abominations, shrunken heads, oriental plunder, outsider art – this is the British Museum without the academic figleaf, says William Wiles.
Ripley's "Believe it or Not" began life in December 1918 as a collection of sporting facts in the back of a New York newspaper, compiled and illustrated by cartoonist Robert Ripley. It soon shifted its focus to bizarre oddities and became a mind-boggling success, making Ripley a millionaire, spawning radio shows, TV programmes and a global chain of tourist attractions. In August, one of these "Odditoriums" opened in London, and its lure was impossible to resist.
The journey through the London outpost of the Ripley empire starts in a large hall called the "Central Distributorium", which gives a taster of the sort of thing to come – two-headed calves, an animatronic dinosaur, a three-legged rooster, Haile Selassie's throne, a selection of cow and pig hairballs, a Tibetan dragon mask. This is followed by a series of galleries with themes including the ocean, space and punishment. There's also a fascinating gallery of outsider art – a painting by a horse, the story of Christ scrimshawed onto a human skeleton and mounted on a cross, a portrait of Ray Charles in sticky notes.
But the Ripley's meat and veg are birth defects (human and animal) and the oddball customs and appearance of foreign folks. The barnyard abomination motif is a telltale sign of the mutant DNA the Odditorium has inherited from the carnival freakshows that toured the rural United States at the beginning of the 20th century. Stir a few shrunken heads and miscellaneous sacred oriental bric-a-brac into that brew and you have the essential mixture.
The overall effect is similar to that of an early-modern cabinet of curiosities, which were princely collections of stuffed swordfish and New World plunder. There's a colonial air to the Odditorium, down to Ripley's pith helmet. The Distributorium is stacked with wooden crates stamped with foreign names; more crates endlessly circle on conveyors, so it appears fresh marvels are always arriving. Exhibits are arranged haphazardly on shelves tricked out with mirrors to create the impression that they stretch away to infinity – a boundless world, full of unexplained wonder, ready for the plucking.
Those 17th-century wunderkammer ultimately evolved into modern anthropological and natural history institutions such as the British Museum. But Ripley's needs no educational figleaf. Science, where it is mentioned at all, is turned into another branch of magical thinking. Exhibit captions have non-explanations such as "the answer lies in the mysteries of the genetic code". The showman's trick is to make it seem unbelievable, to make these exhibits seem like the surface flotsam of a deep pool of mystery. We are asked to unbelieve the believable. This is post-Enlightenment escapism, a daytrip back into primordial superstition.
www.ripleyslondon.com
---