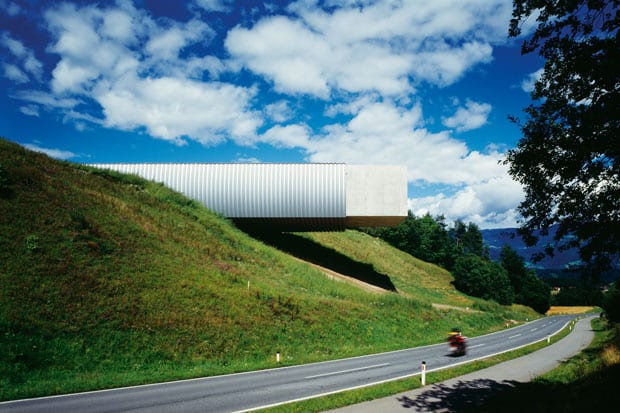 words Diego Garcia Scaro
"It's big, but you don't feel it's too big for you," says Jakob Dunkl, a partner at Austrian architect Querkraft, describing its most recent project, the Museum Liaunig. A 160m-long concrete box near Neuhaus, in southern Austria, the museum certainly isn't small. Yet for a monument to a life's work – it holds
the art collection amassed by industrialist Herbert W Liaunig – it's surprisingly restrained.
Burrowed deep in a hilltop overlooking the picturesque valley of Jaun, the building is mostly hidden from view but then opens up spectacularly to the surrounding landscape with sheltered sculpture galleries on each of its two ends – one of them cantilevering 30m out into the valley. "It was an easy decision burying the building," says Dunkl. "The client didn't have a big budget and we didn't want a low-quality facade. The question was, 'Can we make a monument showing only five per cent?'"
Being partly underground also gave the museum a means of natural climate control, which lowered its operating costs. Daylight filters to the exhibition rooms, which occupy the length of the museum, through skylights running along its vaulted roof. A vast storage space – only 300 out of 2,150 works are exhibited at any given time – is visible from the entrance hall through a glass wall. It's an interesting reversal of type, as storage is usually kept out of sight in museums. An ingenious system of movable screens allows for the variable display of the stored works.
"We compared it to a wine cellar – the cellar of art," says Dunkl. "You can see all the bottles but you can't drink all the wine."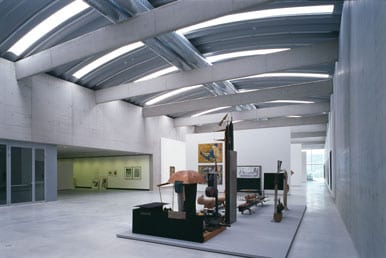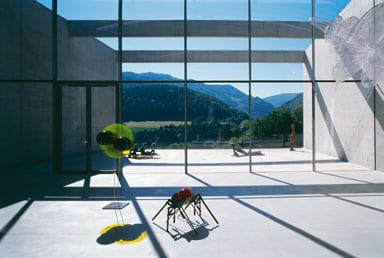 ---