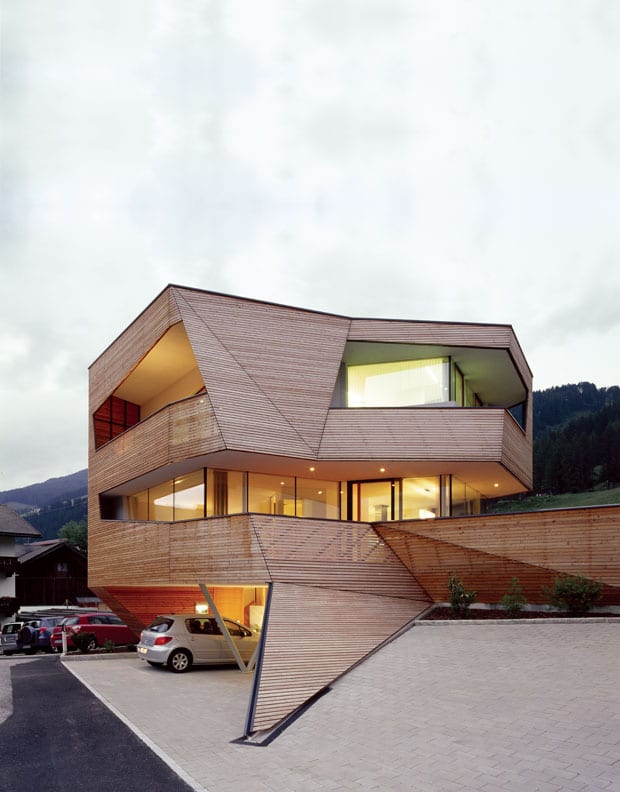 words Fiona Sibley
Plasma Studio has created this sculptural family house in the Italian Alps.
Faced with a restricted plot, surrounded by traditional Alpine chalets and situated on a challengingly steep slope, the Cube House had to be stringently organised into a compact interior volume of just 150sq m.
"Because of the hillside, we wanted the house to unfold from the ground, infusing the ground with the facade," says Holzer Kehne of the London-based practice. "We had to be quite strategic and work with the axis of the landscape."
A parking level on the ground floor is flanked by an outstretched triangular plane that makes this connection between the facade and the ground.
Above, an inner shell of glazing encloses the interior. This core is wrapped in a system of wooden balconies and terraces, which creates a bigger sculptural volume and adds several external spaces that define the house's character.
"It is geometrically more advanced than we would have had space to achieve structurally," says Kehne.
The larch-clad facade divides into a series of angular facets, similar to Plasma's previous Tetris House and Strata Hotel, also in this region. As well as giving the house its form, these extra areas provide privacy from the road and protect the building from weeks of high-altitude cold.
"We tried tricks with the angles to prevent this small house from feeling visually boxed off without wasting space," adds Kehne.
---