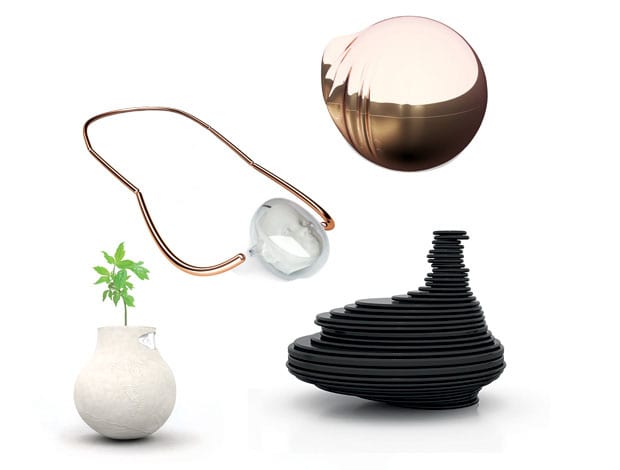 words Johanna Agerman
Placenta urns and breast-milk necklaces were probably the last thing French food and design foundation La Cuisine thought of when asking a group of designers to interpret the subject of eating together. But that is what they got from the Duende Collective for the upcoming exhibition La Part des Anges opening in Negrepelisse, southern France, in September.
"Nothing epitomises eating together like the way mother and child interact," says Anthony van den Bossche, founder of the Duende collective. "The placenta is considered rubbish in our society but it hasn't always been like that, and it isn't like that in other cultures. This is what we decided to investigate in our work."
The result is an array of bizarre urns and pots that strive to breathe some life into old traditions. One, in pink gold, is fleshy in its appearance and is designed to hold the dried remains of the placenta after childbirth. Another is a round-bottomed pot in biodegradable plastic in which the fresh placenta is placed for burial in the ground. There are also little mementos or "milk pearls", created from milk formed into casein, an early plastic.
"It was difficult to find a woman that was willing to give us her milk, so for this exhibition it's made from animal milk," says van den Bossche.
---