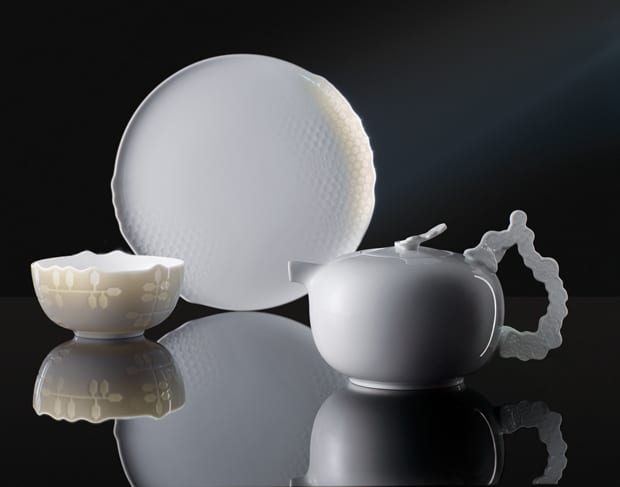 words Johanna Agerman
The Milan-based designer has developed her first collection in porcelain for Rosenthal.
What was it like to design with porcelain?
In the beginning it's a different kind of situation when you have to focus on a new material and a new dimension, because I had never worked on tableware before. I was really thinking about how you use a cup, a plate, a knife, and we had very nice conversations in the studio about it. We did incredible things by hand, but to translate these moulds to the industrial process was another story, and it took a long time to get the thickness and transparency of the porcelain that we wanted.
What was your brief from Rosenthal?
To make a revision of the studio line, which is the most luxurious line. I said to them, let's not talk about luxury but quality. I would like to not only appeal to wedding lists, because that's too traditional. I want people that don't get married or people that also get divorced to have a piece of porcelain from the collection.
How is this reflected in the design?
Normally they ask you to come up with one idea and then they reproduce that idea in the whole collection, so that it is recognisable. But I said that I don't want to work like this. Instead my idea was to work on a landscape of pieces of different histories that all fit together. I like curiosity and surprise when I'm eating, so we developed nine different kinds of bas relief, or patterns, for the pieces. It's like a virus that has invaded the plates, cups and bowls.
But how does the collection reflect the changing family structures that you talk about?
From the beginning, I said to Rosenthal that my life has been about evolution and changes, and the only client that I really know is myself. And in the same way, the people that approach the designs have lives that are changing a lot. Often families consist of one person today, or of five people that then become two because the children leave to study or people get divorced. The idea is that the collection works in parts – you don't need the full set.
Why did you decide to make an exhibition about the process?
I was worried that people wouldn't see the moulds, and I wanted them to feel involved. You understand much more about the concept and the process because you are invited to participate in some way. The exhibition is quite simple – the process of design and the process of working with moulds.
Is there a conflict between showing the exhibition and selling the collection in the shop?
My head is always going in a direction where I want as many people as possible to see my work. If the museum doesn't think there is a conflict then I don't. We are not doing an exhibition of art pieces, we are doing an exhibition of a process of design, and the service is the outcome.
Are you looking to do a bigger exhibition of your other work?
No, but I would like to do a book. This is a long process and it takes a lot of energy, but I hope it will happen in the next year. And in my book I want to have a chapter on how people use my pieces in their homes, because I'm working for so many different types of people and all these contaminations are fantastic.
Patricia Urquiola: Purely Porcelain is at the Design Museum, London,
10 October – 25 January 2009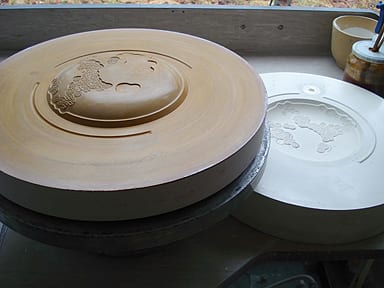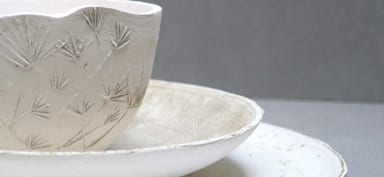 ---