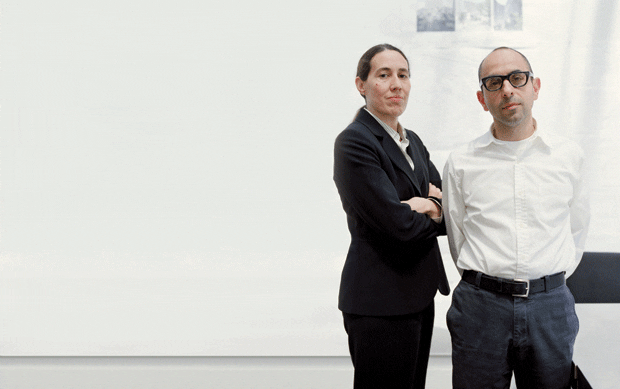 words Beatrice Galilee
portrait Noah Sheldon
The co-founder of Office dA has been talking for ten minutes without pause. It's early morning, Nader Tehrani and I are driving through south Boston in his jeep on our way to get some coffee, and my notepad is already full of questions. What does it mean to be programmatically pregnant? How can anybody talk about Nietzsche at 9am? And what on earth will more caffeine do to him? We arrive at a small cafe on a street corner. There is a brief pause to order two lattes and we recap the story. Iranian Tehrani and Venezuelan Mónica Ponce de Leon met while studying for their diplomas at Harvard, and after discovering a shared fixation with the intimate details of fabrication and construction, they founded Office dA in 1991. The pair picked up three young architect awards in the late 90s for their experimental installations, and this year, after a number of smaller building projects, won the Cooper-Hewitt National Design award. Their first major building, the Macallen apartment block not far from the cafe we're in, opened this month, along with a major new housing project in Cleveland.
Despite Office dA's critical success, the practice occupies a difficult place in American architecture. They're in between generations – older than the digital practices emerging in LA that focus on computer-generated forms and structures, but yet to prove themselves. They're respected but they're more academic than hip.
It doesn't take long for Tehrani to start attacking the major protagonists of form as spectacle. "Gehry and Coop Himmelb(l)au are essentially uninteresting," he sighs, stirring sugar into his coffee. "They set the lowest disciplinary bar for architecture." Brute force is not enough, he argues, to make their buildings intelligent, however spectacular they might be.
"Our work is impregnated with materiality from the beginning," Tehrani reflects, very satisfied with this statement. Gifted in rhetoric, he also roams effortlessly through periods of architectural history, having studied theory at London's Architectural Association in the late 1980s. The separation of architect as master builder and designer is of particular interest to him, and he sees these two roles' reunion through computer technology as a fascinating event – CNC-milling materials directly from computer files unites the design and construction processes. In some ways, he says, it's "the control freak's building tool of choice".
But Office dA's transition from installations (most significantly Fabrications: The Tectonic Garden at MoMA in 1998 and World Trade Centre at the Venice Biennale in 2002) to more pragmatic commercial developments was not easy. The Macallen Building is a 14-storey, 140-unit, bronze-clad monolith with a flat facade and chamfered roof, towering over the junction of a noisy motorway, railway and bus station in a grey area of the city. It is super slick and super efficient, skewered so all service systems are vertically aligned, with elegant gardens above. "It's environmentally friendly everything," says project architect Lisa Huang on our visit to the site later that day. "The steel is recycled and the insulation is cotton. It's the first green building in Boston." With the Macallen's flats selling at $1.6m, it is not cheap. "What was amazing was that we still managed to do something interesting here," adds Huang.
Equally amazing is that Office dA still works in Boston. It's a city that is host to some interesting mid-20th-century projects – Le Corbusier, Mies van der Rohe and Alvar Aalto in Cambridge's Harvard Yard – but noteworthy contemporary architecture is limited to Steven Holl's dormitory blocks for MIT and Diller Scofidio + Renfro's disappointing Institute of Contemporary Art. Boston is certainly the place to study though – with Harvard, MIT and Yale not far away – and as one of the few practices that have stayed on to work and teach here, Office dA's projects really stand out.
The ICA commissioned the practice to build a major installation, Voromuro, for the Art on the Harbor Islands exhibition in 2007. It produced a luminous construction from hundreds of acrylic panels that repeated to form a dome. The practice's newly opened Banq restaurant in downtown Boston has layers of bony wooden ribs that form a stage set. The toilets have an interesting sixth dimension, with a barely audible tape of voices playing from a hidden speaker. I told Tehrani it gave me an insight into what it might be like to be schizophrenic. He laughed. "We were just playing a little game."
Elsewhere, a gatehouse for a community of Chinese artists in Tongxian, 30 miles from Beijing, was a case of dealing with materiality and the circulation of people. The concept was to "shrink wrap" the box – made of those now familiar grey bricks native to Beijing – to which was added a generous use of chuzumu wood for the interiors. Stylistically, it contrasts in almost every way with Helios House (icon 048), a petrol station in LA. Every tessellated triangle of that facade was formed on computers. It managed to eliminate all traditional sense of order by using the same material throughout, creating entrance, column and capital in one.
The library at Rhode Island School of Design in 2006 was a transient project combining architecture, design and installation. The school had moved its library into the vast barrel-vaulted hall of an old bank and needed to make the most of the space while preserving the spectacular ceiling. Two wooden pavilions were built into the library to provide more space – essentially huge pieces of multi-functional furniture, the CNC-milled MDF structures serve as study rooms and give a "living room" to the library.
Rather than a formal approach to design, it is the way that Office dA consistently treats specific materials that gives coherence to its work. Form and material are conceived as much as possible as one. Tehrani admires Ben van Berkel's Mercedes-Benz Museum as a case study of the unity of technology and design from the outset, but he can't help but have a little dig at UN Studio's methodology. "Their idealisation of the diagram is not helpful," he remarks, sipping his latte and staring pointedly. I wonder who's up next for a savaging.
It's the minimal Swiss. Tehrani fundamentally disagrees with architects like Peter Zumthor and Herzog & de Meuron and their philosophy of "truth to materials". He admits he is seduced by their elemental forms, but he doesn't believe that building materials have an inherent quality or value. "The quality can be obtained, manipulated, advanced," says Tehrani. "What it does and what it says it does is limiting to architects and designers." Like many practices today, Office dA's work extends from chairs to urban design strategies and it must be adept at all of these in order to survive. It uses digital design to assert itself in the construction industry, but it also makes silverware, doorknobs, plates, dishes and even exit signs.
Through its more experimental installations, Office dA has often explored the notion of fabrication as deception, something explored most fully in the 1998 exhibition at MoMA – with surfaces that appeared to be seamless but which had been cleverly constructed with several components. Much of its work could be described as research in the guise of design.
Office dA aims to liberate the boxed-in Swiss as well as reign in the formalism of the likes of Frank Gehry. It's a testament to the practice's lofty ambition, but it's easy to get lost in the language and rhetoric that surrounds it – Tehrani's rampant theorising of everything can be exhausting: "Microdisciplinary advances… the speculative spirit of academia… intellectual stimulation… complexity of plot…a more discerning form through practice."
We pause to thank the coffee shop owner and walk back to the jeep. We're all talked out, and the drive back to the office is notably silent.

Helios House petrol station, Los Angeles, 2007 © Eric Staudenmaier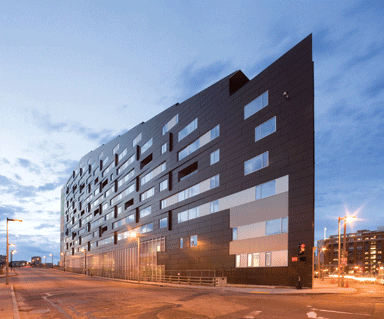 The Macallen Building, Boston, 2008 © John Horner

Tongxian Gatehouse, China, 2003 © Dan Bibb, Nader Tehrani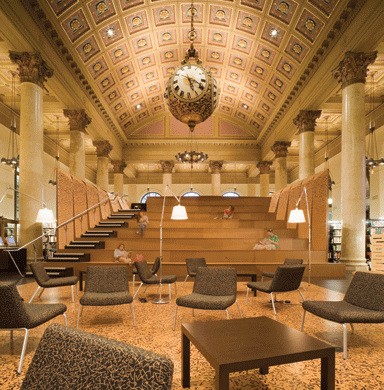 Rhode Island School of Design Library, Providence, 2006 © John Horner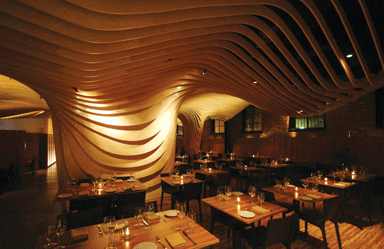 Banq restaurant, Boston, 2008 © John Horner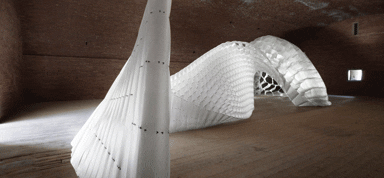 Voromuro at the Art on the Harbor Islands exhibition, Boston, 2007 © John Horner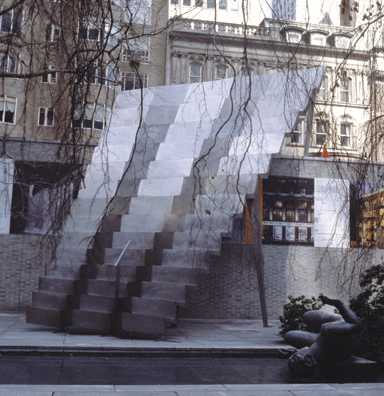 Fabrications: The Tectonic Garden, MoMA, New York, 1998

Ventulett installation, Georgia Institute of Technology, Atlanta, 2006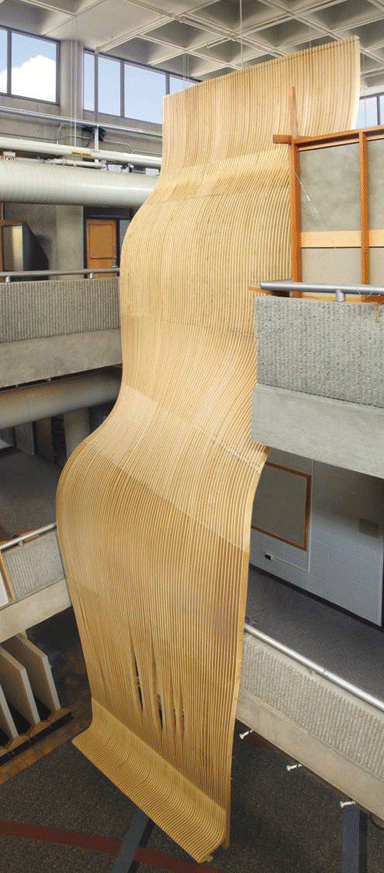 Ventulett installation, Georgia Institute of Technology, Atlanta, 2006
---