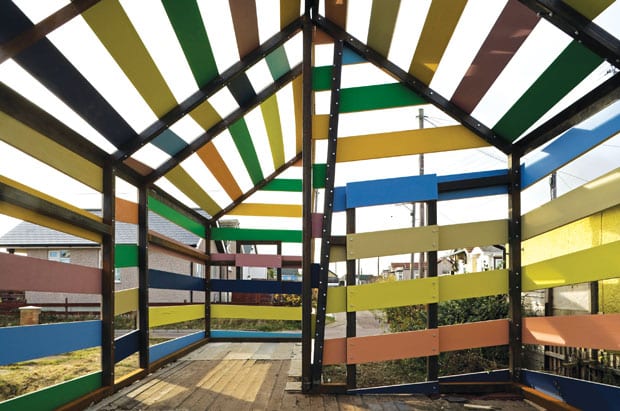 words Johanna Agerman
"No one goes to Jaywick," says Scottish artist Nathan Coley. In spite of this, the 2007 Turner Prize nominee has erected a temporary sculpture on an empty plot of land at 46 Brooklands Gardens in the make-do seaside resort in Essex.
Jaywick became a popular summer destination for London's East End inhabitants in the 1930s. "It's still a place for escapism," says Coley. "People escape the world by living here." Visitors' summer bungalows have slowly and illegally grown to eventually become year-round residences. It was this kind of DIY society, operating outside of council laws, and insurance and mortgage restrictions, that attracted Coley to the place.
Built on the foundations of a former bungalow, Coley's sculpture refers to the surrounding houses, both in scale and form. It is made of a rough metal structure clad in planks of wood that have been painted white on the outside and a rainbow of colours on the inside.
The piece was commissioned by the art organisation Firstsite. But Coley doesn't see 46 Brooklands Gardens as being only about the object. "It addresses questions about where we live and how. It's a sculpture that needs to learn from its environment," says Coley.
The project is also an investigation into places that exist on the margins of our society. "Maybe you'd expect to find something like this in Colchester or Clapton-on-Sea," says Coley of the more affluent towns surrounding Jaywick. "However, this isn't for the cultural tourist, this is for the people of Jaywick."
---