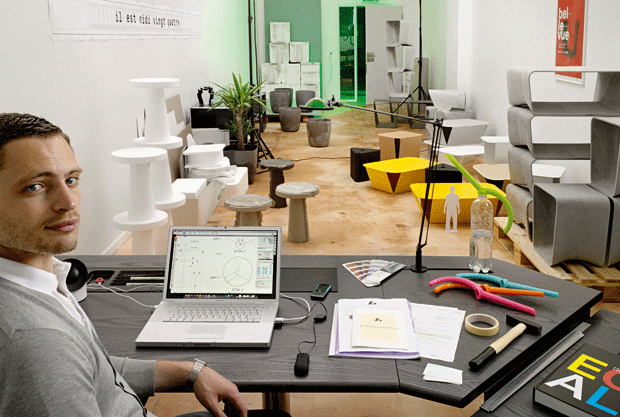 words Johanna Agerman
Nicolas Le Moigne is skilled at fencing. In fact, so skilled that he almost dedicated his whole career to it. "My father was the trainer for the Swiss national fencing team for the Olympics in Seoul and Barcelona," he says, "and he wanted me to fence as well."
These plans were altered along the way though – Swiss product designer Le Moigne, now 28, took the Industrial Design Masters at École Cantonale d'Art Lausanne (ECAL). Even before graduation, he had several of his designs in production, two of which are currently a staple in design shops across the world. His Watering Can for Vice Versa (01) is a handle and spout in brightly coloured plastic that can be screwed onto a water bottle, adding function and elegance to an item that would otherwise be discarded. The second is the Trompe L'Oeil vase (02) for Banal Extra – a thin slice of enamelled steel cut into the shape of a vase that easily slips on to an ordinary drinking glass.
Le Moigne says that it is the discreet details of everyday objects that influence his work: "My aim is not to shock people – I prefer instead to design functional things that aid everyday life." But even if his designs are far from controversial, his Public Clock (03), designed for a square in Geneva, caused an outrage when it first appeared. Long and rectangular in shape, it tells the time in words rather than numbers, the flaps causing a seductive flutter as the minutes change. But Geneva being the timepiece capital of the world, the negative response was overwhelming. There was even an internet vote on the clock's right to public existence, and in the end it had to be removed. "This project was really a disaster," says Le Moigne. "It was very different from the objects I designed before and I really liked it because it questioned how we look at time. I wanted to create a clock that was more human and there is something poetic, even magical, when the time changes."
Many of Le Moigne's projects stem from in-depth research into production processes and the inherent properties of materials. One stage of this process can be seen in Le Moigne's Slip stools (04), recently on show at Gallery Libby Sellers' Strativarious exhibition in London. Although complete pieces in themselves, they are in fact the first stage of the research process for his final project at ECAL – a project that resulted in seductively curved stools and tables (05) made from the industrial material Eternit – a mouldable combination of fibres and cement.
With a handful of pieces already in production, what is Le Moigne's next step? "I'm waiting for opportunities to work with people rather than on my own projects. So far it has been very easy for me, maybe too easy."
image Mild Keller
---