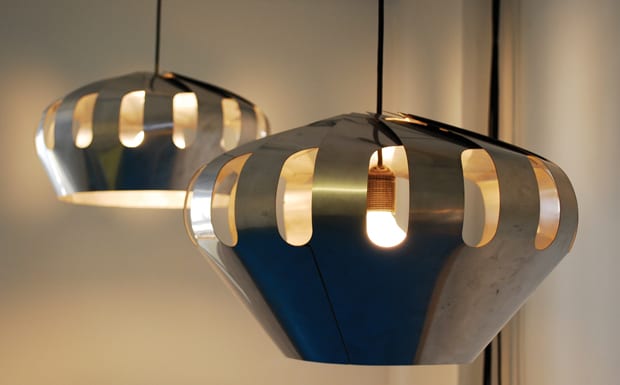 words The Icon Team

Why should anyone visit the London Design Festival?
This is supposed to be the design capital of the world, and we should have an essential festival. But this year's was disparate, provincial and missable.
Last year it felt like we were making progress – there was a major new show, Tent London, in the East End, Designersblock was expanding, the Royal Festival Hall worked as a citywide hub and smaller events were beginning to cohere under regional umbrellas, such as the Brompton Design District.
This year, Tent and Designersblock had declined in size and quality. Instead of taking up the slack, former flagship event 100% Design simply isn't strong enough to carry the festival. Several key events were cancelled at the last minute. The festival's opening party had all the glamour of a reception for toothbrush salesmen. The Design Embassy had the vibrant atmosphere of closing time at the breakfast buffet in a regional Travelodge.
It's not a problem with the city. We've got some of the best design and architecture schools, dozens of design venues, and creatives flock here from all over the world to live and work. No one's questioning the necessity of the festival – it's a shop window to the world, and should be a creative powerhouse. We want to be enthusiastic about it. But what's lacking is an essential event to hold things together.
There was still good design to see this year, but it was hiding. The real strength was the small, independent, curated shows. Arts Co's show on plastic, From Now to Eternity, was fun, relevant and devoid of preachyness. Okay Studio used its show at the Aram Gallery as a springboard to launch a score of new products, introducing the Okayers to the wider audience that they deserve, not to mention to manufacturers. The Royal College of Art graduates were doing much the same thing in Changing Dimensions, their show in South Kensington.
Elsewhere, the Brompton Design District events reported more traffic, no doubt because of the neatly packaged map, linking everything together. It seems that a little initiative and resourceful marketing work wonders. Designersblock had a fantastic space in Covent Garden, but the work was badly selected and full of one-liners. DeTank at Tent was on the money, setting up a live studio and beaming out interviews with designers and architects onto screens across the venue and online, but Tent's Content show displayed row upon row of gimmicky conceptualism.
This was only the sixth year of the festival, and it's clear it's still finding its way. It's also clear how totally lost it can get without some strong, commanding, central curatorial influence. No one's saying it would be easy to apply the sort of vision that makes a small gallery show worth seeing to a sprawling, diverse event covering a world city. But it's what needs to be done.
From Now To Eternity
Although the plastic bottles the private view invitations came in put us off the exhibition before we saw it, From Now To Eternity turned out to be one of the highlights of the week. With a strong curatorial direction courtesy of Arts Co and a stellar line-up of names, it was impossible not to feel impressed by the small but perfectly formed show, displayed in the lobby of creative agency Mother in east London's Tea Building.
Inviting eight designers from different disciplines to interpret a material as controversial as plastic was a challenging premise. "It brings a contentious issue that everyone talks about to the fore in a less worthy way," says Arts Co's Isabella Macpherson.
The seat of FAT architects' Soft Hercules stool (03) used stress-ball material to mimic the head of an antique statue, a comment on plastic's permanence. Also aping another material was Tomoko Azumi's Shaker Shadow (05), which was carved out of fake wood made from recycled plastic, a reinterpretation of traditional craftsmanship.
Fisher Price toys and childhood nostalgia were the inspiration for Raw-Edges' Plastica Nostalgica (02), a red cabinet that looks like a perversely magnified children's plaything. Meanwhile Committee's Fandangos (01) are exquisite little tabletop sculptures made out of recycled plastic parts.
The show, which also included work by Rolf Sachs, Tom Price (04), Stuart Haygarth and Hiroki Shiratori, was coherent and thought-provoking compared with much of the LDF. "It added a curatorial element to the festival," says Macpherson, something that was sadly lacking in many of the other shows.
Aram
Okay Studio's Under the Same Roof exhibition at the Aram Gallery, which continues until November, is quite exceptional – every piece of the nine London-based designers' work is ready for production.
Framed early sketches of the work on show are hanging from the ceiling – evidence (from the gradually changing designs) of the conversations and honest feedback that goes into the studio's work. The Okayers continue to combine a slightly Heath Robinson, sideways approach to everyday problems with a calm, stripped-down aesthetic.
The show includes a large number of inventive tables. We were particularly drawn to Clamp-a-Leg (06), a set of legs that can be clamped, vice-like, to any surface – such as an old door – to turn it into a table. It's part of Jorre van Ast's Thread Ensemble, a series of tables with detachable or adjustable legs, all threaded like screws. Peter Marigold is showing a working model of the forthcoming Ellipse table (10), a small circle that stretches like a concertina into a 3m-long dining table – and uses its own off-cuts as the loose leaves. Oscar Narud's contribution includes this coffee table which splits into five stools, part of a series called Slap-Dash (09).
Other outstanding pieces include Raw-Edges' beautiful Tailored Wood stools (08), a highly polished contrast to some of the more rough and ready woodwork of the others, and Tomás Alonso's elegant bentwood No 7 Chair and Mr Light lamp (07). Mr Light stays slim by using LEDs, which are even more energy efficient than fluorescent bulbs. Also in the lighting department is Matthias Hahn, who is showing the coolly minimal Scantling series – we particularly like the ceiling one – and the rather more luxurious Lantern in warm metal and glass.
Changing Dimensions
Royal College of Art graduates found another empty South Kensington property to exhibit their wares in this year.
The rule for the 11 exhibitors at Changing Dimensions was no sponsors, no producers and no brief – a perfect environment for the designers to develop personal projects. There wasn't the grandeur of last year's Gradual show (Tom Dixon got his hands on the three-storey Cromwell Place mansion this year), but the work was just as strong.
In the hallway, Gemma Holt displayed her shelf bracket made from an A6-size sheet of brass. In the former living room, we liked Luka Stepan's peculiar stool based on a bicycle seat (15), with a folding, zig-zag structure. David Sutton presented some lampshades that explored steel tension and flexibility (11), and David Weatherhead made a brilliantly simple range of bathroom timers (12) – plastic containers with holes in the bottom. When the water's leaked out, you've had a two-minute teeth-brush or a five-minute shower.
In the shed, Henny van Nistelrooy made the most of having some space and made an experimental table during the exhibition (13). It uses sheets of Kevlar and glass fibre that are soaked in resin and sealed in plastic before being folded into shape. We also liked Oscar Diaz's super practical Profile Lights (14).
DesignersBlock
With its slightly embarrassing name, it was impossible not to notice Floater, a ladle by Korean design student Seongyong Lee which is cleverly designed to stay afloat in your pot (16). It brought a smile to our faces and was one of the distressingly few products that caught our attention in the Designersblock exhibition, tucked away in the furthest corner of the show at No 1 Covent Garden Piazza.
Mint
The owners of Mint design shop had done some fantastic homework, bringing in pieces from this year's graduate shows as well as products from Milan's fringe events. They also invited "eating designer" Marije Vogelzang and her crew over to provide the catering. Passing shoppers were treated to root vegetables cooked in organic clay, which had to be smashed open with a hammer to reveal the food within (18). The waste clay crumbs are recycled afterwards.
100% Futures
Recent Stockholm Konstfack graduate Jonas Wagell's full-on prefab house (in production by Nordic Marine Living) and tables and chairs in metal stood out from the crowd at 100% Futures. The best thing was the Pomperipossa water kettle (19), made from melamine and porcelain and looking like something out of a rustic fairytale. Unfortunately it's not yet in production.
Gallery Libby Sellers
London gallerist Libby Sellers shacked up in Liberty this year, decorating the third floor with her Beau Sauvage exhibition, including pieces by London-based designers Peter Marigold, Max Lamb and Daniel Brown. We especially liked Marigold's Dexion Shelving with legs (17). By removing a slither of metal from the corner of the L-shaped legs and welding the edges together again, Marigold gives the utility shelving elegant pied de biche-style feet.
Gallery Fumi
Gallery Fumi is coming along well since its launch at the beginning of the year – on show were commissioned pieces from London-based designers Max Lamb and Studio Glithero, and Dutch Pieke Bergmans. Bergmans has become known for "infecting" furniture with glass-blown "design viruses" that stick like growths to objects – we're pleased to see the designer's saggy light bulbs adding a function to the idea (21).
Poland Street Underground
Polish designer Tomek Rygalik took over the basement of the Vinyl Factory and turned it into a temporary nightclub. Hanging from the ceiling, his new industrial-style pink, orange and green lighting with wires dangling all over the place was reminiscent of an 80s disco (22). The lights can be pulled from the ceiling as high or low as required, and swivelled to point where they're needed.
Create Berlin
The hardcore techno blasting out over Dray Walk was a bit too obvious a way to promote design from Berlin, but the work, like Lars Dinter's A
Kind of Candlelight (20) and Alexander Kaszubiak and Helge-Christian Schmidt's Momenti Mori – breast cancer cells grown on Swarovski crystals – were both beautiful and thought-provoking, adding an edge to Tent London's otherwise disappointing exhibitors.
Tom Dixon Factory
It was a shame that so few London-based designers decided to participate in this year's festival, and Tom Dixon should be commended on both his effort and his display, although his own pessimistic verdict was that "I don't do enough". The Factory on Cromwell Place in South Kensington saw Dixon's Wingback chair in different stages of production (23), as put together by Newcastle-based furniture manufacturer George Smith, and served as an interesting comment on crafts as "happening".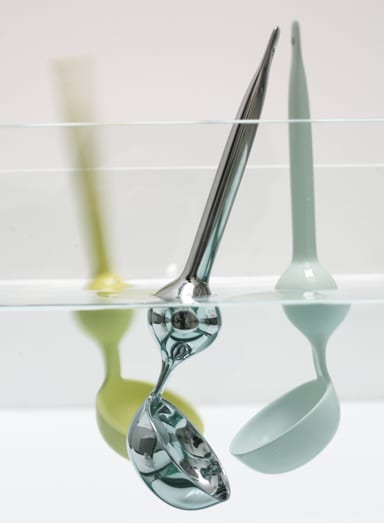 ---