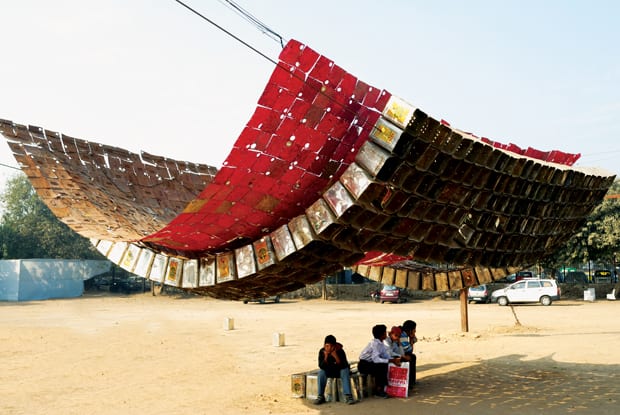 words Johanna Agerman
692 discarded oil cans make up the Jugaad pavilion in Delhi by artist Sanjeev Shankar. The pavilion is suspended in the air with pullies "like the ones you use to pull up buckets of water from the well", says Shankar, and it brings some welcome shade for the inhabitants of the Rajokri district of the Indian capital.
"The original idea came from my travels in India to document the lives of the people," says Shankar. "I found myself naturally drawn to the oil can, and I actually started stalking it and followed it to all kinds of places in the city."
Jugaad is an Indian word that describes the process of making something with the resources you have to hand. 
It's this process that Shankar applied to the oil cans used in this public art project, commissioned by the 48°C Public.Art.Ecology festival.
To complete the project, Shankar asked for the help of Rajokri locals. "At first there was just one, then five, then 
ten and at the end hundreds of people who helped out," says Shankar. "There was a lot of resistance from the villagers at first, and it was difficult for me to describe the project to them – I needed their participation to make it come true. In the end I became a critical conductor to their ideas."
Discarded cans were collected from around Delhi and washed with hot water before being integrated into the design. The covers from a further 945 cans were stitched together with rope to create a beautiful patchwork canopy that the oil cans were hung from. Some of the oil cans were painted with a pink paint called gulal, others were pierced with holes to filter the light through before being joined with nuts and bolts.
The pavilion was envisaged as a temporary intervention in the Delhi street landscape, but plans are being discussed to give it a permanent site.
---