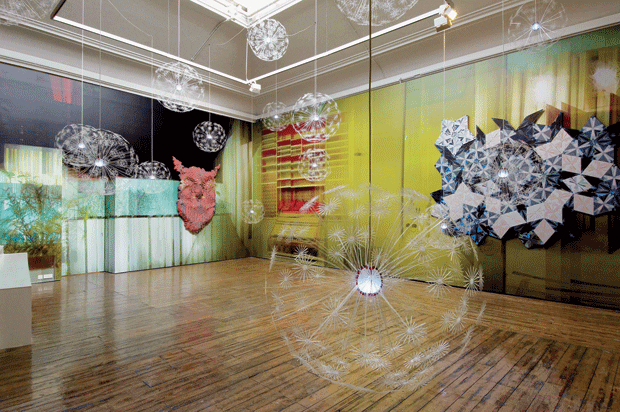 words Mark Rappolt
Boundaries – everyone knows that the entire purpose of art is to smash them down. And these days the boundary that separates art from design is most people's favourite target. Cuban-American Jorge Pardo has made this sort of thing a speciality over the past 20-plus years (so he can claim to have been at it before it became really fashionable), which is why he's turned Haunch of Venison's Georgian gallery spaces into something that looks like a display area at Habitat or Heal's.
He's achieved this "Where-am-I?-Is-this-a-shop-or-a-travel-agent-or-a-gallery-and-is-there-any-difference-anyway?" effect by covering the walls with photomurals (which he has messed about with) of his Mérida House, in Mexico, which the exhibition guide describes "a building transformed into a sculpture that is also a place of residence". On top of these murals are hung a couple of mask-like relief sculptures and some flowery fractal-like collaged paintings, and clusters of spherical lamps are suspended throughout. The end result is an environment that wafts out a sense of the tropical (blues, greens and oranges in the photomurals and the exoticism of the mask reliefs) along with the impression that, despite the fact that you're in a posh art gallery, you are, in reality, on the threshold of a luminous domestic space – the kind of space that might make the cover of something like Wallpaper.
The sense that you're being marketed some sort of lifestyle continues with the lamps, which aren't ordinary light fittings, but an artwork "titled" Untitled (Lamps) (2008). They look like a charming, twee, dandelion-like Tord Boontje confection, and don't get me wrong, they've got a certain delicate beauty. But why they have to be titled, or untitled, or indeed anything other than just "lamps", is a mystery. But perhaps this sense of the mysterious is precisely what links contemporary design and contemporary art. Neither of them is about the object you see in front of you and whether or not it fulfils some sort of self-evident purpose or function; instead they're both about the invisible references and connotations that come along with the object. This is what used to be called the "aura" of an artwork – the particular set of references that it can plug a viewer into. You could argue here that Pardo, through his reliance on an absent house that's repackaged as an "environment", is taking things a step further and suggesting that both art and design are about nothing more than a vibe.
People are forking out big bucks to get their hands on all this design art and "artchitecture" stuff, but it's hard to see how the debate matters to anyone other than the compilers of dictionaries. In fact, there's something medieval about it all, as though design art is some sort of escape from the oppression of a guild system that forces a person to stick to a discipline. And while people within the realms of art and design may be flagellating themselves about how to categorise what they do, the common sense of it is simply to say that a chair I can sit in is the product of design, a chair I can't sit in better be a work of art or I should really be thinking about getting a refund.
You could argue of course that Pardo's show is supposed to highlight the way that we personalise and "inhabit" space, and the way in which anyone's home is, to some degree, their own personal work of art. But so is the display room at any Ikea store.
In the end, it is a question of taste. If you like Pardo's then you'll have a great time wandering around his showroom. And if you don't then you won't.
top image Untitled lamps and Pardo's paintings against a photomural backing
---