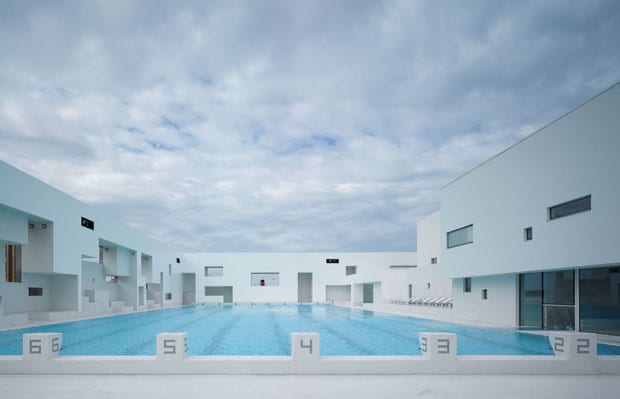 words Anna Bates
Jean Nouvel has designed a 12-pool swimming complex as part of a €31m masterplan to regenerate the docklands of Le Havre, on France's Normandy coast. Called Les Bains des Docks, the public baths comprise an outdoor Olympic-size pool alongside a network of interconnected lagoon-style leisure pools.
In contrast to Nouvel's recent glass skyscrapers, "this is a work about mass," says project manager Mirco Tardio. Nouvel wanted the baths to appear hewn out of the walls.
In keeping with the industrial landscape, Les Bains has a plain, shed-like facade, but the interior is a complex volume of Tetris-like surfaces. Nouvel used a language of geometric concrete blocks, influenced by the way Spanish sculptor Eduardo Chilida "penetrates mass with light and void". White mosaic tiles line the walls and floors of the 5,000sq m interior – apart from a strip of primary-coloured foam blocks in the children's play area, that look like a pixellated bouncy castle.
The layout of the centre is based on the organisation of natural rockpools; each pool is an enclave, with water channels linking those indoors and outdoors.
Besides creating a dramatic backdrop to the water, Nouvel's blocky landscape is rooted in function; the cubic voids create shielded, private areas and the modulated surfaces reduce noise and echo. Meanwhile, the highly rectilinear walls and cavities create a dynamic play of light and harsh shadow. Here and there, windows frame views of the sky and the surrounding docklands.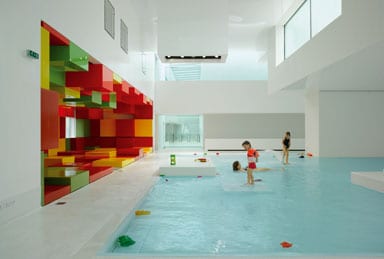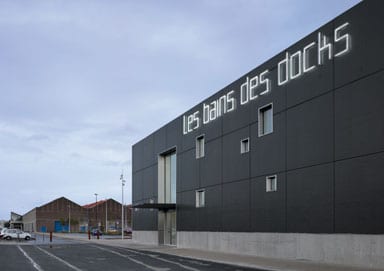 ---