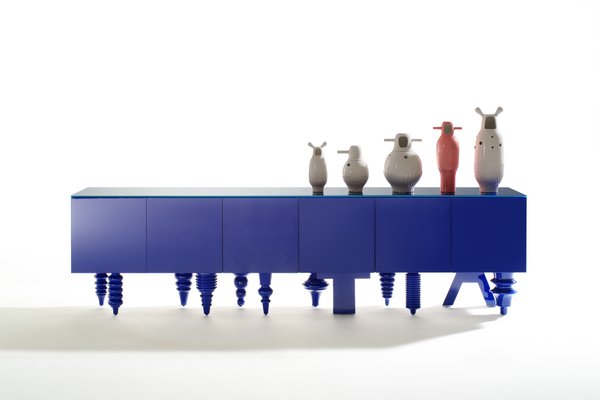 words Kieran Long
Jaime Hayon has been in many different tribes.
From his teenage years as a skateboarder in San Diego, to his time at design school in Madrid and his stint at Benetton's Fabrica design institute, he has found himself in league with groups of talented people.
We're sat across a desk from one another in Hayon's Barcelona studio, and he is showing me pictures of his colleagues at Fabrica, where he headed the design department between 1997 and 2004. "This guy is one of the best artists in Japan," he says, before moving on to point to a series of other faces. "He's working for Alexander McQueen, he's a very good designer in Japan, he has a succesful design studio working for Foscarini, he's an art director in Costa Rica and she's working for Miyake." Pointing at the final portrait, he says: "And she's a secretary. She didn't do too much," as if to defuse this roll-call of success.
Hayon has emerged in the last year as one of Spain's fastest rising industrial designers, having honed his approach on everything from street art to the alternative corporate strategies of Fabrica. He also has a talent for self-mythologising, demonstrated by this portrait (and the one on the cover), taken by his partner and collaborator, German artist Nienke Klunder. Klunder has taken a series of extraordinary shots of Hayon dressed as a clown, in a dressing gown and now, for us, dressed in a furry sheep suit holding a papier-mâché wolf's head. Klunder says it is not expressly about myth-making: "It comes and goes. Because we work so closely together, and we are a couple, sometimes we just suddenly have an idea." But the pictures add to the feeling of Hayon being a very canny operator in today's image-led design world. The portraits are by turns playful, beautiful and highly contrived. They make clear that Hayon is far from the clichéd industrial designer working on solutions to functional problems.
His work at the Milan furniture fair this year confirmed the advances that have been made in Spanish manufacturing, with Hayon presenting new products for furniture manufacturer Bd Ediciones and bathroom company Artquitect, both based in Barcelona. But Hayon doesn't want to see himself as part of an emerging Spanish scene. "It's a very little world here," he says, "[when I first moved here] I was like a foreigner and didn't know anybody. Nobody knows me now – I get published in [POL] Oxygen magazine in Australia on the cover, in places really abroad, Japan, but nobody knows."
If there is perhaps a certain scepticism amongst other designers in Barcelona about Hayon, it seems to be centred on him being a little too fashionable. One prominent designer told me he didn't like Hayon's work "because it could be by any other designer today," comparing the pseudo-baroque of Marcel Wanders to Hayon's bathroom collection, with its Louis XIV references.
But this is hard to credit when you pick over Hayon's background, which is far from the comfortable art school upbringing of the European mainstream. Born into a working class family of Venezualan and Spanish parentage in Madrid, Hayon's first brush with creativity was as part of the then emerging skateboarding scene in Madrid, designing graphics for decks. As an accomplished amateur skater, Hayon was offered sponsorship by an American skateboard manufacturer, and went to San Diego for a year and a half, plunging into a world of graphic design, graffiti and guerrilla brands. His time in San Diego also accounts for the excitable west coast syntax that creeps into his long sentences.
He explains: "I got out of Madrid and I was there skateboarding and I had these friends doing music, and [designing] decks and silk-screening T-shirts, inventing brands, creating skateparks, I was doing silk-screening everyday, and it was funny because that was where I started to get the sensibility about design. The world of skateboarding always had creativity surrounding it, and, like, you understand then why I do toys and stuff like that – it all came from that underground world which I lived in when I was really young."
Hayon describes the deck graphics he designed as his first projects. On his return to Madrid, he got a place at the then newly opened Istituto Europeo di Design, where he took a variety of jobs to fund his studies, including the early shift at a patisserie. "I was known as the cook, because I always came in in the morning dressed in the uniform," he says. Hayon was part of the first intake at the new design school, the first in Madrid. The teaching was orthodox industrial design ("like Dieter Rams," he says), but Hayon's street culture roots were already developing into a particular tone in his work. "I mean, I had an approach where they didn't understand really well what I was doing."
After finishing his studies on a scholarship in Paris, he returned to Madrid but found no work as a designer. After briefly considering going into business with his brother in a gift shop in the city, Hayon was offered the chance to go to Fabrica, the design think-tank/institute set up by legendary Benetton mogul Oliviero Toscani. Hayon decamped to the Veneto, Italy, and within a year he had been appointed head of the design department, Toscani's right-hand man in the institute. "That was tough," he says, "because I had to learn by doing, and manage people. That's one of the reasons why my office, my work, is very small. I don't want big. Because at 23 years old I was managing a very big budget and over 30 people, and I'm not into that any more."
Although Hayon thinks fondly of his time in Italy, it became a management job more than an opportunity to explore his own creativity. In 2001 he took a warehouse space nearby and began to make the figurines that became his first solo exhibition – Venezia Carnivale – skittle-like sculptures covered in illustrations in Hayon's signature graphic style. "I just started to build some of my first 3D pieces, sculptures with heads. I showed that [at Venice's Studio Camuffo gallery in 2001], and everyone was so surprised. They expected to see some objects that had some kind of social meaning, and no way, it was like graphics and explosions here and sculptures!"
In 2004 Hayon left Fabrica and moved to Barcelona. His first independent success was with a series of charming plastic toys (mostly popular in Japan, where his designs for Toy2R's Qee collection attract an obsessive following). But this success took him away from what he sees as "serious" industrial design. That changed after his breakthrough exhibition – Mediterranean Digital Baroque – in 2003 at the David Gill art gallery in London.
The show consisted of a series of ceramic cactuses, some strange hog-like animals, a mosaic wendy house filled with rows of Hayon's Onion Qee toys (sinister figurines) and an extraordinary mural backdrop. "It had a whole story," he says. "The supersonic pigs coming out of there and the cactuses were vomiting. They all had a story that had no sense, but I thought here you just have to be yourself. For me the objects didn't have to be commercialised. They can have a function, but they're not supposed to have a function."
With Mediterranean Digital Baroque, and the Mon Cirque installation that followed in 2005, Hayon found a space in the art world to be inventive, while learning to work with high quality materials, particularly porcelain. It was this expertise, and the growing PR buzz around his exhibitions, that led to his first major commercial commission by bathroom manufacturer Artquitect. This collection of bathroom furniture was launched last year, and veers away from the clinical, hygienic-looking modernism that dominates high-end bathroom design.
The set of furniture can be bought as separate pieces, with mirrors, lights and other elements integrated into sink pedestals and baths, all of which have the aforementioned sculptural legs, with their faint baroque connotation.
Hayon refutes the notion that his appropriation of historical imagery is in any way linked to the current trend in design: "I don't want it to be associated with that, because it's not what I'm looking for. I like the use of past things, but I can also be inspired by Memphis, or something else. When I started that [project], the whole movement [the trend for appropriating historical motifs] hadn't even started yet. And that's the thing, I see that my approach in the bathroom has helped this. But people often choose really ugly things, and if you want to involve these stylistic references, you have to be really careful." So it's a question of the taste of the designer? "Absolutely. What I believe is that the combinations I'm making here are working, they're not hurting, and that's very important. If you see how many new things this bath gave to the market, it gave colour, it gave luxury materials like gold and platinum, the fact that you could buy any piece separately, the integration of light within the toilet."
Perhaps his signature piece so far is the recently released Multileg cabinet for BD, a simple lacquered sideboard with each randomly placed leg different from the next. In fact, buyers can choose their own configurations – as few as six identical legs, or as many different ones as they like. He explains its development: "Basically I was in the woodshop, and I thought I don't have the money for five tables, so I'm going to make a table that is five tables, and I'm going to make all the legs different, so it's going to be really difficult to express what kind of style it is. So, this is a letter, this is a Japanese stand, this can be baroque, this I just invented, this I thought could be Memphis and this for me is like Las Vegas. All the styles become the play, and I love that game."
The reference to Las Vegas is appropriate – there is a joyful excess about Hayon's work and attitude that contrasts with the referential design of the instinctively puritan Dutch designers to whom he has been compared. He is as aware of the power of imagery as his former mentor Toscani, but fizzes with the will to draw and invent like a graffiti artist. His feeling right now is that he will soon move to London, which he sees as a larger creative soup in which to swim. Barcelona's loss will be London's gain.
---