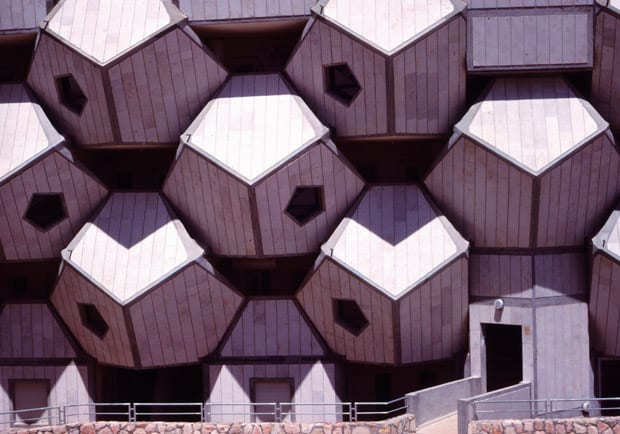 words Bill Millard
Does living in machines-for-living turn us into machines? Bill Millard visits MoMA's survey of prefabricated housing to find out.
In Home Delivery: Fabricating the Modern Dwelling, curator Barry Bergdoll takes on a topic too large for the space. Prefabrication is modernism's recurrent answer to architecture's hardest question: how to devise housing that's within most people's means without imprisoning them, boring them, or exiling them to dreadful and/or remote places? This exhibition's internal contradictions may be just as inevitable as the housing market's. It's still monumental.
Home is an emotionally charged concept, an object of reverence that resists the languages of efficiency and interchangeability. Yet producing affordable residences on mass scales without industrial processes is practically impossible. The conviction that everyone's home is, or ought to be, unique has such mythic status, that substituting mass-production efficiencies for handcraft in housing construction inevitably involves some degree of conceptual subterfuge.
Prefab housing's history includes at least as many experiments of primary interest to design aficionados as spaces one might personally choose to inhabit. The exhibition accordingly emphasizes the providers: Augustine Taylor's balloon frames, Corbusier's Maison Dom-ino, Jean Prouvé's elegant portique support systems, Gropius' copper panels … Residents' experiences – Carl Strandlund's flat-packed Lustron Westchesters, for example, apparently felt like living in a tin can, with bad ventilation and clanky acoustics – are largely left to the imagination.
Home Delivery's indoor segment balances warily between education and entertainment. Above freestanding panels including Marble Fairbanks' striking Flatform, the entrance prefaces the relatively academic early displays with Buster Keaton's comedy One Week (1920), where a jilted suitor avenges himself on a young couple by misnumbering the parts of their new kit house. Keaton and bride complete its DIY erection within one week as promised, but the resulting dog's breakfast of Caligari angles and spurting plumbing represents prefab's worst-case scenario of failed standardisation. "Successful" standardisation appears equally disturbing, as in the Soviet bloc's ubiquitous concrete plattenbauten. Between those extremes, however, Bergdoll guides a procession of compelling experiments: Archigram's modular whimsy, Safdie's Habitat '67 and Ramot projects, Kurokawa's Nakagin Capsule Tower, and the exuberantly flexible Metastadt urban framework by Richard Dietrich and Bernd Steigerwald. Responses to recurrent housing crises due to wars, colonisations, economic dislocations and demographic bulges display a rough arc toward greater variability, culminating in improvisations both gritty (Teddy Cruz's community-repurposed materials) and "clean" (Greg Lynn's Embryological Houses, program-designed striated eggs in cartons).
Bergdoll is particularly thorough on work by Corbu, Gropius and his Bauhaus colleagues, Prouvé, Wright, the ubiquitous Bucky Fuller, and even Thomas Edison. Later entries suffer from cramming or relegation to five soundless overhead video screens that stretch the neck more than the imagination.
The outdoor component provides the exhibition's chief sensory payoff: five full-scale buildings, most more thought-provoking than livable. System3, for example, is an austerely Ikea-ish spruce-and-steel box, efficiently stackable for urban settings, but with one harsh flaw: on a scorching day, stifling interior heat; on a moderate day a week later, stifling interior heat.
Jeremy Edmiston and Douglas Gauthier's sporty Burst*008 and Lawrence Sass' Digitally Fabricated Housing for New Orleans, a shotgun house engineered for nail-free assembly, both rely on laser-cut plywood parts. Thanks to parametric design and computer-numerical-control milling, mass standardisation is yielding to mass customisation, bringing architects and designers closer to fabrication processes, and perhaps bringing the entire prefab idea closer to popular acceptance.
Home Delivery's focus on process illuminates both prefab's promise and its frustrations. The real obstacle to this otherwise logical solution may be memetic: the pervasive fear that treating everyone the same will make them the same. Unpacking that would require cultural contextualisation well beyond the scope of this sometimes maddening, altogether indispensable show.
Home Delivery: Fabricating the Modern Dwelling is at the Museum of Modern Art, New York, until 20 October
www.moma.org
---