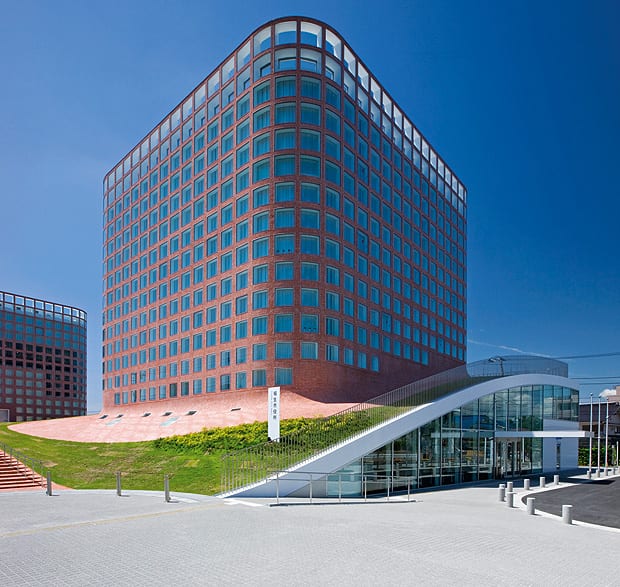 words Diego García Scaro
Fussa City Hall is made up of three tiled edifices rising above an undulating carpet of grass. This roof garden billows across the site, carrying a public recreational space over a large office space. Japanese architect Riken Yamamoto designed the complex in Fussa, 40km west of Tokyo.
The two 16-storey, brick-clad towers, punctured with row upon row of square windows, dominate the otherwise relatively low-rise urban landscape. One houses the administrative centre, the other the assembly, and both are built using a simple precast concrete structure clad in brick tiles.
"The skin of the towers transfers into the landscape," says Swiss architect Beda Faessler, partner of Yamamoto's European office, referring to the strong relationship between the curving paths and steps and stairwells that surround the project.
It all adds up to a strange impression. The windows get increasingly larger and the floor plates get thinner the higher they are because of the decrease in structural demands. The facade's repeating pattern appears in the building's interior with walls and screens using the same proportions and patterns within.
The building was recently used as part of the Tanabata Festival, where US airmen carried a Mikoshi, a type of portable shrine, from Shinmeisya Shrine to the new City Hall.
---