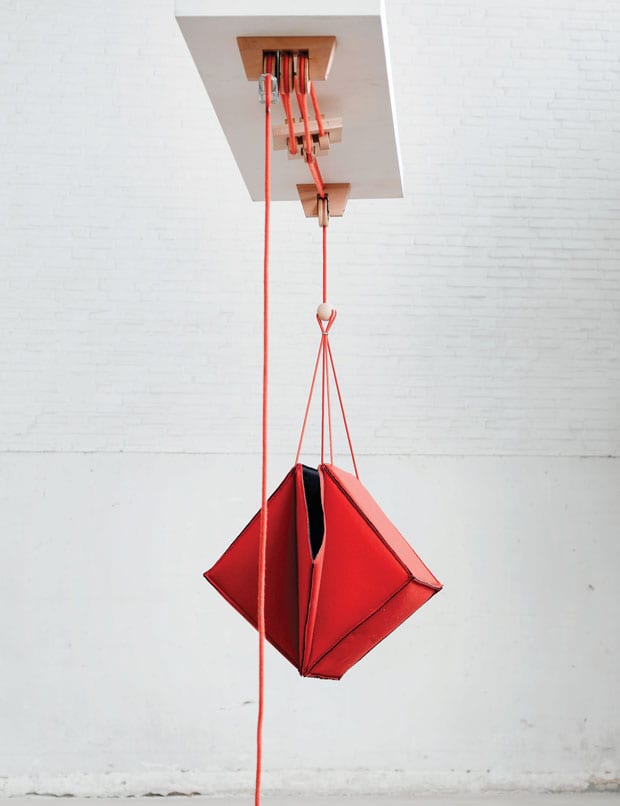 words Anna Bates
Design Academy Eindhoven shouldn't be in financial difficulty any time soon – the school has recently been given special status by the Dutch government, and awarded extra funding. We're looking forward to seeing what they spend it on, because the graduation show this year was excellent. Continuing last year's move to the more understated, "this year, the work was tactile, subtle, and as a whole, the projects tended to be smaller," says Anne Mieke Eggenkamp, the school's soon-to-be chairwoman. "There's a love for craft and construction – the work was more contemplative. People stayed longer in the exhibition, it asked for your attention." A selection of the 40 best projects can be found on iconeye.com.
top image Frank Mulders, Close
"Children will love putting their toys in the red felt container and hoisting the lot up to the ceiling," explains Mulders in his project description – almost as much as parents will love putting their children in it, and hoisting them occasionally out of sight. We think this design has great potential.
Bauke Knottnerus, Phat Knits
These foam-filled yarns have a diameter between 6cm and 18cm – perfect for giants. They can be knotted into rugs, folded into seats, or left in a spaghetti-like mess to lie on.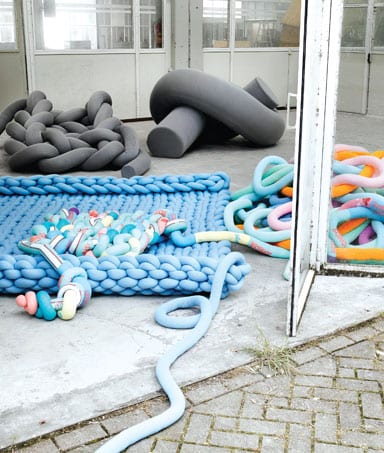 Maarten de Ceulaer, Pile of Suitcases
A parody of our jet-setting lifestyles – this wardrobe is made from a pile of wooden suitcase-resembling boxes, stacked on top of each other and held in place with steel profiles. Easily separated, they're a perfect choice for the frequently moving renter. Despite all the reference to movement and displacement, it's an incredibly homely looking piece of furniture.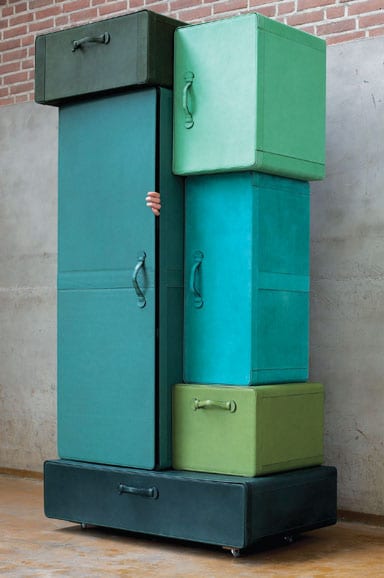 Soojin Hyun, House on the Table
Every office should have one of these for quiet working, and every home-worker should have one to mark out their workspace. It's a house on a table, and it turns a boring office set-up into a fantastical private space. Owners can decorate the walls within, which come equipped with windows, bookshelves and drawers.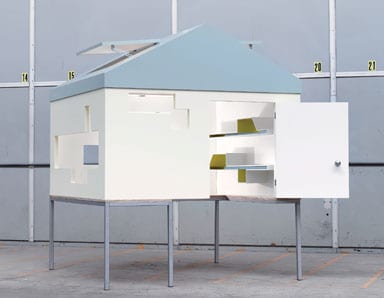 Nadia Pedreschi, Obsession / Control
This table would turn the best of us into OCD sufferers, and that seems to be the designer's intention – to make the desk user relate to the more obsessive among us. We've not yet sat at it, but with everything lined up neatly along the 1cm square grid, we can see that we'd be a better and more perfect type of person.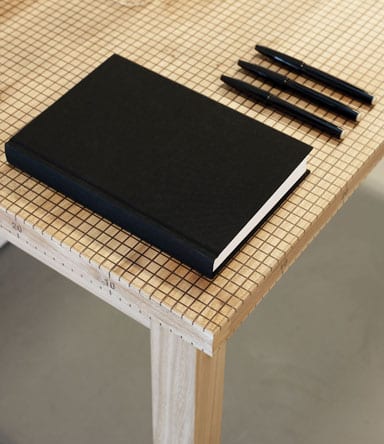 Igino van Haandel, Doorlight
Several of this year's graduates had focused on the predictable topic of sustainability, but in intuitive, thoughtful ways. This Doorlight is perfect for public toilets – opening and closing the door generates enough energy to keep the light on for three-and-a-half minutes.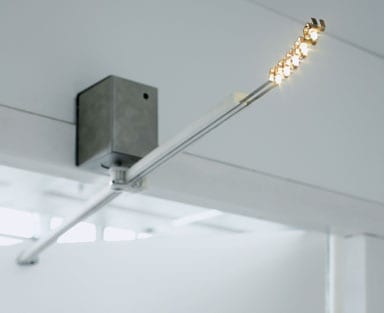 ---