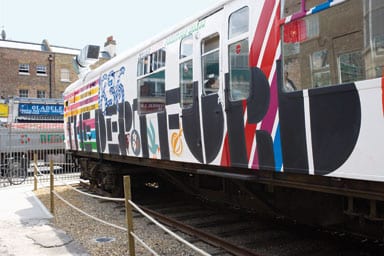 words Anna Bates
A train carriage housing a cafe has arrived on Deptford High Street, south London.
The 1960s wagon has been emblazoned with graphics referencing the area's history – the work of London-based graphic designer Morag Myerscough. Inside, she collaborated with artist Luke Morgan to create a brightly coloured table that runs the length of the carriage and stringy plastic lampshades.
The carriage is situated in Deptford Station's disused railway yard. The surrounding wasteland will act as an outdoor studio, where creatives will be invited by local curators to make, show or perform.
The project is part of a regeneration scheme orchestrated by a property developer who hopes the the cafe will create a buzz before the arrival of a market, run by the organisers of Spitalfields Market, and apartments by Richard Rogers and Alison Brooks nearby. Judging by the lively atmosphere on the opening night, it should prove a popular local joint.
top image The graphics decorating the carriage reference local history

The cafe spills out onto an outdoor terrace

The interior furniture was a collaboration between designer Morag Myerscough and artist Luke Morgan
---