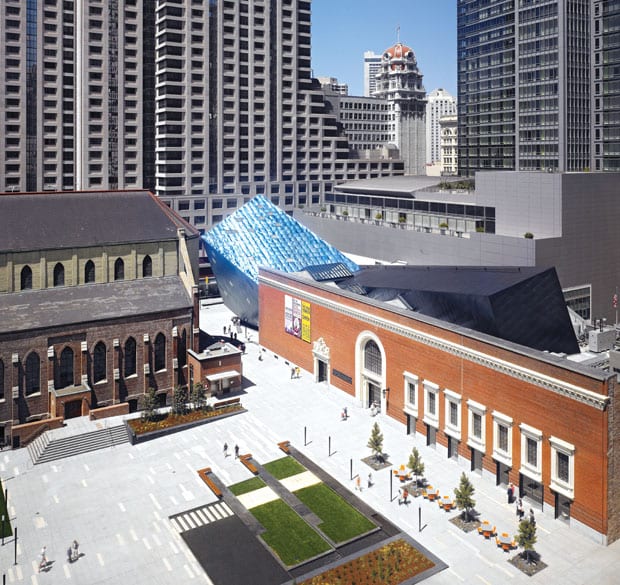 words Bill Millard
L'chaim, "to life!", is the Hebrew phrase apparently spelled out by the volumes of Daniel Libeskind's new Contemporary Jewish Museum in San Francisco. Its twin blue forms evoke the letters chet and yud, says the architect, forming the word chai, the basis of l'chaim. "I never considered buildings machines for living or machines for exhibitions only," Libeskind says. "They have to be based on interesting ideas."
The CJM is Libeskind's first commissioned museum in the USA. Its two sharp-angled forms straddle the landmarked Jessie Street Power Substation, a facade designed in 1907 by Willis Polk to renovate a building damaged by the 1906 earthquake. The abrupt geometries of the new forms are faced in blue steel, designed by A Zahner and fabricated by Rimex Materials.
Coloured by chemical "interference coating" and thus fadeproof, the unique cladding creates pixelated patterns of refraction and reflection. ("Unique" is no idle description: Libeskind reports that Rimex found the process too difficult to repeat.)
L'chaim is not the only instance of Libeskind's characteristic symbolism, grounded here in Judaism's tradition of alphanumeric interpretation. A lobby installation represents consonants equivalent to PRDS or pardes (Hebrew for "orchard", "paradise"), an acronym encoding the practice of four-level textual interpretation: literal, allegorical, personal and mystical. "I've used a constellation of references… deeply embedded in the building,"says Libeskind, but one need not understand Hebrew symbolism to appreciate the museum.
Libeskind views the contrast between the original building and the extension more as "adaptive transformation" than adaptive reuse, observing that the substation, for all its City Beautiful-era terracotta detailing, never had public access. Polk's building brought electricity, modernity and hope to San Franciscans after the earthquake; the CJM likewise helps re-energise a central arts district – neighbours include the Yerba Buena Center for the Arts, the Sony Metreon and SFMoMA.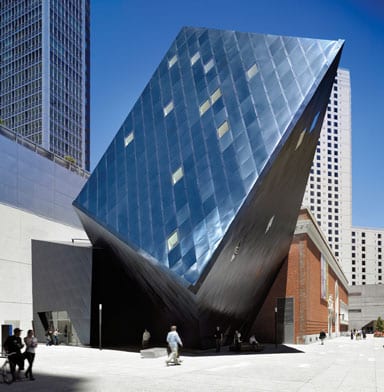 The blue steel was coloured by a process that is too difficult to repeat.
---