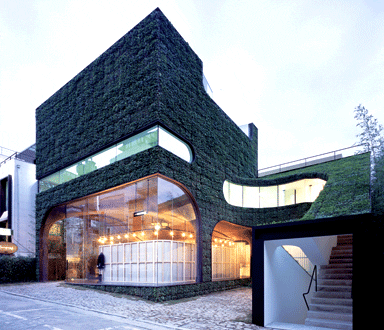 Cho, principal of Seoul-based studio MASS Studies, used the same irrigated facade system – of watering pipes behind square pillows of plants – as Jean Nouvel's vertical garden, Musée Du Quai Branly in Paris.
Inside the shop, columns cast in matt black concrete seamlessly flow from the undulating ceiling to create a crypt-like space that feels like it could almost be supporting a great medieval cathedral.
Just a few weeks before completion, the walls were still covered in wooden formwork. "We almost preferred it with the timber on," says Cho. "It looked pretty cool."
It still looks pretty cool though. All four walls of the ground-floor shop are glazed from floor to ceiling, with two sides looking out to dense walls of tall bamboo. A separate open-air entrance leads down to a basement shop with moss-lined walls – on entering, it feels like a damp cave or part of a science museum exhibit. A curved staircase leads up from here and around a forecourt to the first floor, where the plan is to install a restaurant, bar and terrace with generous views over Seoul. "There's mountains all around the city," says Cho. "The trouble is that the centre is so overbuilt that nobody ever sees them."
Along with Boutique Monaco, due for completion in August, the store is part of Cho's vision of inserting moments of greenery and life into the city.
images Yong Kwan Kim
There's not a lot of green in Seoul. The vivid grass and moss facade of Cho Minsuk's store for Belgian fashion designer Ann Demeulemeester has a high impact among the chic, polished stores of the exclusive Dosandae-ro shopping district.
---