words Beatrice Galilee
"It's the most ordinary building," says Stan Allen of his practice's extraordinary chapel just outside Manila, in the centre of the Philippines. The white stucco-covered concrete structure was commissioned by a charity for local handicapped children, on a budget of less than $100,000.
The CCV Foundation approached the New York-based architects – most notable for their major urban and housing projects – through a personal contact and asked for proposals to build a chapel on a university campus that could also serve as something for the wider community. "It was agreed that they couldn't pay a fee but they would build whatever we drew," says Allen. "In the end, we built something that interested us."
The building has a series of screen-like concrete supports, layered to form a porous and open surface and folded slightly inwards in plan. Allen describes the kinked shape as a pair of embracing arms – in this part of the world, known for its typhoons and seismic activity, structural rigidity was crucial. The thinking goes that by folding paper slightly it has far greater strength than as a single plane.
The long distance design and engineering was less of a problem than the practice had imagined and had some unexpected benefits. "There's a strong tradition of using reinforced concrete for vernacular architecture in the Philippines," says Allen. "It turned out that labour is expensive and materials are cheap, so you end up with craftsmanship you couldn't come close to in the States."
The structure is entirely open to the elements, with high, thin openings perforating the facade. These create delicate light patterns that the architects worked hard to achieve, informed by the early 20th-century churches of modernist German architect Rudolph Schwarz.
Aware that many of the users of the building would be in wheelchairs, the architects chose to use traditional stone and concrete outdoor flooring for the entrance and hall, which leads in a continuous surface from the porch.
Local mahogany was used for the 3m-high doors, which use similar layering patterns as the exterior. The practice also designed freestanding chairs rather than pews, in a simple, Shaker style, to be installed later this month.
images Marvin Dungao
top image The structure, which is open to the elements, has a raised roof over the altar space

The chapel acts as a landmark for the campus

The vast, handcrafted mahogany doors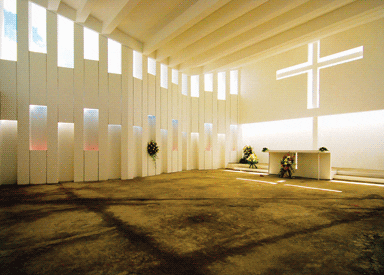 The floor is rough concrete
---