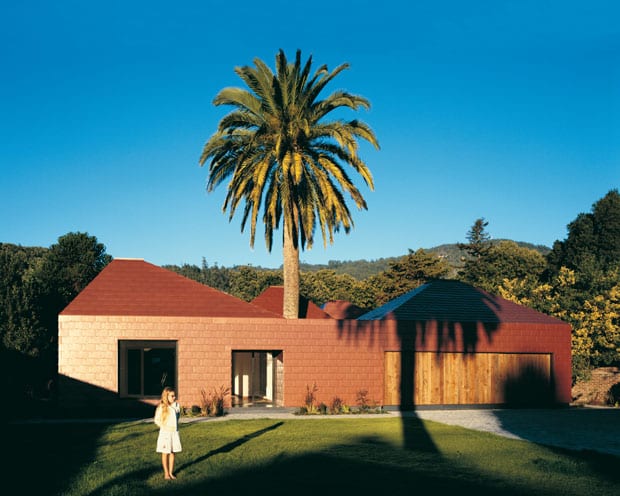 words Johanna Agerman
Childhood Memories shaped Casa Parr by Chilean/Argentinian architects Pezo Von Ellrichshausen. "Our client grew up in this spot but when his mother died, he had the old house demolished," says Sofia von Ellrichshausen.
The only remnants of the original site are the trees, and the house is designed around them. Located in a residential area near Concepción, Chile, it is a modern interpretation of a traditional farmhouse. The single-storey villa consists of 12 rooms and nine courtyards, some of which enclose the trees.
"The owner wanted a lot of rooms," says von Ellrichshausen of the labyrinthine plan of the house. "It's very normal in Chile to duplicate rooms so that you have one dining room for the family and one for the guests. And it adds up."
From a distance, the rather toy-like Casa Parr looks like a cluster of smaller houses. In fact each rooftop represents a room with a high pyramidal ceiling and a skylight at the apex. This introduces a measure of spatial variation inside, and breaks up the silhouette of the villa. In order to cast as little shade as possible over the courtyards, the roofs taper away from them.
The compound villa's rectangular footprint covers an area of more than 500sq m. Daylight filters in through the large windows that connect the rooms to the inner courtyards, which makes for striking visual effects. It also draws the outside in, opening up the otherwise enclosed spaces.
The walls and roof are covered in aluminium-zinc tiles that reflect the light so that in the morning the house has a bluish hue that slowly turns golden as the day progresses. "The tiles were tested in situ in about 20 different colour variations, but the final finish was selected to match the clay tiles of the original house ," says von Ellrichshausen.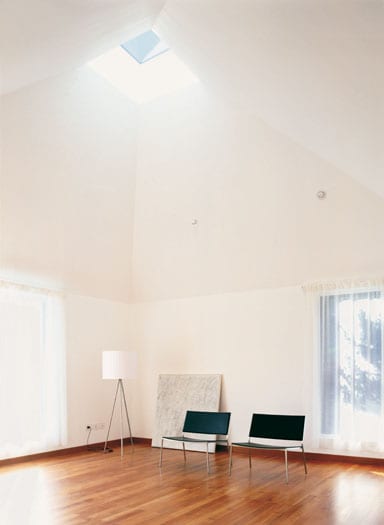 ---