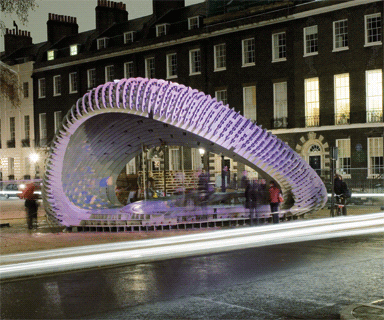 words Beatrice Galilee
"We did it in our lunch break," confesses Alvin Huang, who designed the winning entry for the C-Space pavilion on Bedford Square while working full time at Future Systems with his colleague Alan Dempsey. "And we went through a lot of napkins!"
On the doorstep of London's Architectural Association, the shell-like structure was built to celebrate the 10th anniversary of the Design Research Laboratory, a post-graduate unit set up in 1998 by Brett Steele and Patrik Schumacher. All past and present students of the DRL were invited to enter an open competition, and Huang and Dempsey's design was chosen in October 2007.
The surface of the structure is a complex mesh made from over 800 panels of Fibre-C, a thin concrete typically used as cladding. Here it's used as a semi-open shell, engineered by Hanif Kara. Three steel rings serve as additional support against wind loading.
"There were no 2D drawings that could represent how to build our design," says Huang, who found the process a steep learning curve. "So we had to study flatpack Ikea furniture and use that to write instructions on how to build it." It was assembled by hand by students and staff.
The whole process reflects both the forward-thinking designs and the collaborative spirit of the unit, where students are assessed in teams, says Huang. "In many ways, this is the biggest DRL team we've ever been part of."
image Sue Barr
top image The structure uses panels of Fibre-C, a cladding material
---