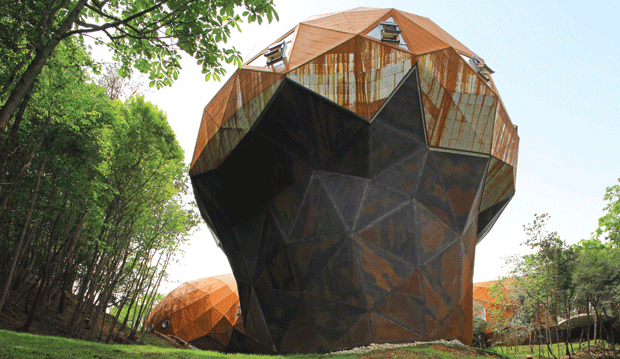 words Diego Garcia Scaro
Bubbletecture H – an environmentally themed visitor centre in a mountainous area two hours from Osaka – is the latest building in Japanese architect Shuhei Endo's ongoing exploration of the geometry of bubbles.
Endo says he is interested in the structural quality of "frothiness", how bubbles of different sizes connect with each other in a non-uniform grid to produce foam. The centre's design is modular but not rigid – the building seems to grow from the ground and meander along the sloping terrain. A faceted steel skin wraps around it, delineating three spherical wings that correspond to the centre's functions: a theatre, library and workshop.
The theatre and workshop lie on the highest point of the site, while the library hovers at the same level as these, supported by a concrete structure that contains a machine room and water tank. "We thought it was very important to minimise the effect of the building on its surroundings," says Endo, "and we tried to keep the natural shape."
The centre also shares some of the traits of traditional Japanese architecture. "I think that there is a consciousness of openness in Japan – for example, the continuation of buildings and nature, of suburbs and the city," says Endo.
A structure of triangular trusses made of Japanese cedar supports the steel sheet, a continuous surface that functions as both roof and wall. The steel is rain- and wind-resistant, treated so that it won't rust further. Part of the roof has been planted with moss, which, together with the oxidised steel, will help the building to blend in with its setting – something the client was keen to emphasise.
The locally sourced wood of the trusses was chosen in part for its reduced environmental impact. In addition to the planted roof, which insulates the building, other ecological features include a rainwater reservoir concealed in one of the folds of the metal wrap, and a treatment plant for refuse water.
The building follows Endo's celebrated kindergarten in Maihara, also part of the Bubbletecture series.
images Sergio Pirrone
top image The library wing of the centre stands on a concrete and steel structure that contains a rainwater reservoir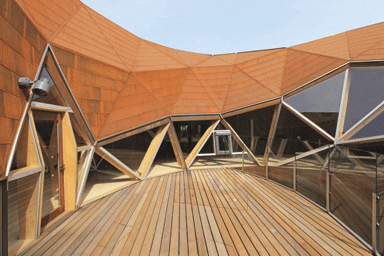 An internal courtyard has a viewing platform of the surrounding landscape

The Japanese cedar truss structure is punctuated by skylights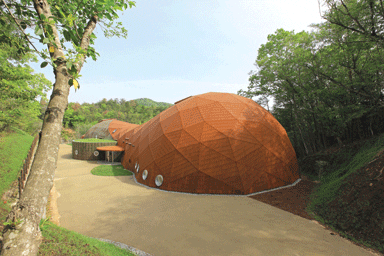 The façade is made of weather-resistant steel
---