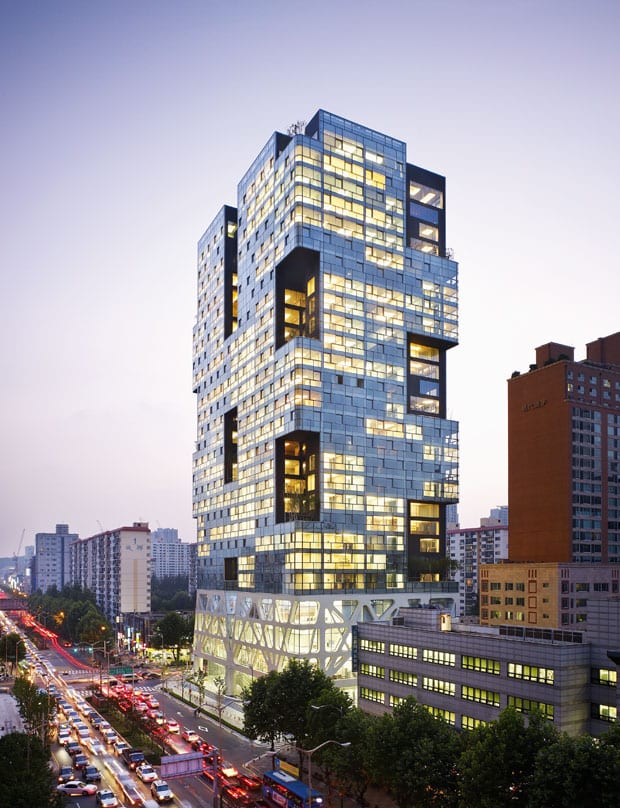 words Johanna Agerman
"High towers are like deserts for human interaction," says Minsuk Cho of Korean architecture practice Mass Studies. With Boutique Monaco, he's trying to combat this problem by injecting a more human quality into this high-rise in central Seoul.
A key aspect of Boutique Monaco, designed for a private developer, is the removal of big chunks from the boxy volume. The main reason for this strategy was Cho's desire to create micro-environments high up. Each of the 15 voids contains a "sky garden" overlooked by residents' balconies.
Variation is also a feature of the apartments themselves. Of the 172 units there are 79 different spatial types, so no set-up occurs more than twice. In hindsight, Cho says that this was "suicidal" because of the complexity of laying out the 23 unique residential storeys.
The housing sits on five floors of retail and commercial space distinguished by a structural skin of diagonal members.
Although Boutique Monaco is fast establishing a reputation as a landmark building in Seoul, this wasn't Mass Studies' intention. "We are not striving for superficial uniqueness," says Cho, who sees it as an experimental take on high-density housing. "We have created our own manual for how to deal with condensed urban conditions."
---