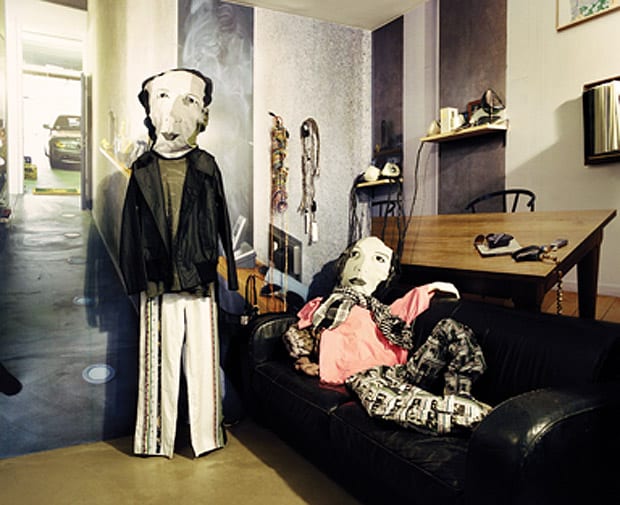 words Johanna Agerman
Bless would rather decline this interview than agree to having their photograph taken.
It's a stance that has earned them few favours in the fashion industry and one that made icon curious to find out more. We met with one half of the label in Paris, and the other via a virtual link to Berlin. That's the second quirky fact about Bless: despite working together for 13 years, the founders, Ines Kaag and Desiree Heiss, have never lived in the same place or worked from the same office. Austrian Heiss is in Paris and German Kaag is based in Berlin.
Building on foundations laid by the likes of Martin Margiela and Comme des Garçons in the 1980s, Bless has reinvented the profession of the fashion designer. They won't adhere to the traditional rules of the fashion industry. They are not interested in self-promotion. They refuse to be pictured in the press. They are impossible to pin down as their repertoire stretches from shoes to interiors, products and art installations. When other fashion brands move into fragrances, Bless instead launches a collection of vacuum cleaners.
"Can you come a little bit closer," asks Kaag, from the computer screen in the corner of the Paris studio. She is speaking with her face so close to the fisheye lens that it distorts her features. Desiree Heiss pulls her chair closer. These online chats are an everyday occurrence for Bless and a clear improvement on the early days of the business when they used to send each other faxes, even letters. "We still write like a hundred emails a day but it's unfortunately less charming than it was in the beginning," says Heiss. They met at a fashion contest in Paris in 1993 [Concours International des Jeunes Créateurs de la Mode] and became penfriends. "It was in the pre-computer era," explains Heiss, making the 1990s seem a very distant past. They continued to share education and ideas, and after graduation, Kaag from University of Arts and Design in Hannover and Heiss from University of Applied Arts in Vienna, they found a strong need to continue their feedback on each other's design.
"After your studies you fall into this hole where nobody judges your work any more and we were there for each other to channel our thoughts and to give each other a response to the ideas we were working on," says Heiss. Hearing them talk together, even in this stilted set-up, it becomes obvious that their partnership is based on a deep friendship and an instinctive understanding of each other's thought processes. Bless is, above all, a meeting of minds.
Like any ground-breaking business, their start-up was far from conventional. Having produced just one piece together, the Sun Top, created from transparent strips of gauze, they decided to buy an advert in their then favourite fashion magazine i-D. It was to advertise Bless No 00, Furwig, a wig made from fur in a Rod Stewart circa 1986 cut. The piece has that special brand of off-beat humour that Bless has returned to in their subsequent work. For example in Bless beauty products such as Hairbrush, where a seductive curl of human hair has replaced the bristle. The i-D advertisement had an image of the furwig, the Bless name and a telephone number printed underneath. "We were super-naive because we were both looking for a job at the time and we thought that people would see the ad and call us with offers," explains Heiss of the peculiar decision to spend their budget on advertising this early on.
The advert resulted in only two phone calls. The first was from Colette in Paris, the now highly influential concept store, at the time just about to launch. They wanted to sell the wigs. The second was from Patrick Scallon from Martin Margiela who asked them to create the wigs as accessories for the Margiela Autumn/Winter 97/98 collection. Both requests ultimately forced Kaag and Heiss to stick to Bless rather than pursue any individual projects. "Since Bless was never planned there was never a moment when we sat down and said 'let's make a company'," says Heiss. "The Margiela commission decided it for us."
Bless can count 35 individual collections to date. They obsessively itemise and catalogue their projects in clinical shots or "posters", bringing their own brand of experimentation full-circle. Their collections are small in comparison to other fashion houses' and their productivity seems compulsive rather than planned, something that is reflected in their repertoire of objects ranging from wigs to, most recently, car covers (Bless No 35, Automatica). Anything can become a Bless "fashion item" as long as they feel that an object has been sufficiently overlooked to merit a reinterpretation.
Kaag explains: "We try to put ourselves at a bit of a distance from the work of others [designers], not because we want to create our own style, but because as long as other designers are doing cashmere jumpers of the right length and the right thickness we don't have to do it."
This attitude has made Bless absolutely obsessed with the banal and everyday, often glorifying objects that are normally forgotten and relegated to cupboards and drawers. Bless No 07, Living-Room Conquerors, was the first collection in this vein. It was an attempt to re-style ignored spaces and objects such as spare chairs, doorways and tablecloths. Similarly Bless No 17, Design Relativators, took a close look at the appearance of conventional household appliances, creating decorative shells for blow dryers, irons and vacuum cleaners, while one of their bestsellers, Bless No 26, Cable Jewellery, focuses on something as commonplace as electrical cords. With the addition of fur, wooden beads, lace and bangles, they are thoroughly impractical but at the same time ingenious.
While Bless has successfully teamed up with brands like Adidas for Bless No 12, Team-ups, these collaborations remain few. Despite their increasing interest in furniture and product design no design manufacturers have approached them to date. "I think they think we are too difficult," admits Heiss. "With us not being very good at doing interviews and our refusal to have our picture taken. It is difficult to market us." Kaag adds: "It's the reason why we don't sell as many products as we could sell, but we don't care." Their defiantly anti-commercial attitude is at the same time awe-inspiring and puzzling, as it has made the day-to-day running of the brand very problematic. It is a position that was firmly stated with Bless No 03, Set, a piece of netting with decorative patches, random zips and buttons applied to it. It is, quite frankly, annoying for its ability to be nothing and everything at the same time. It provokes the consumer to partake in the creative process, finishing the job of deciding what Set actually is.
While their contemporaries Viktor & Rolf have often stated their opposition to the commercialism of the fashion system, they have little by little surrendered to it, but Bless remains obstinate. "Of course it would be good to have more money and feel a little bit more safe than we feel now because still we have these small structures developed," says Kaag. "But we only want to do things that we are interested in. This aim is much stronger than making more money."
So how does the creative process work with Kaag in Berlin and Heiss in Paris? "It's a secret," answers Kaag deadpan, and adds: "It's almost a little bit rude now because you have come to Paris to ask us questions, but it is really something very personal to me and Desiree and in general the creative process is like 3% of our life. If you counted the minutes together from the outset [of a collection] then it's maybe, I don't know, two days," says Kaag "The rest of the time is spent on communication, administration, recovery. It's very unspectacular. That's why I prefer to call it a secret, because there is nothing to say about it." Although it seems an impossibly short amount of time of focused creative thought it makes sense when you find out that Bless only have one other person in full-time employment. They even had their own mums doing their accounting for many years. "The next question we usually get is 'where do we get our inspiration from?'," adds Heiss, mocking the narrow-minded media.
Although Bless adheres to the biannual grid of the fashion industry they have always avoided presenting their collections in the setting of a traditional fashion show. Instead what they do can be branded happenings to which friends, buyers and press are invited. For Bless No 31, Ohyescoolgreat they were on top of the Montparnasse Tower and for Bless No 32, Frustverderber, they staged a football game. "Some people consider it not a very good way of showing clothes, and there are people from the high end of the fashion industry that don't believe in our system because there aren't models or our models aren't aesthetic enough. But our clothes are designed to function on real people and maybe our friends are too big, too slim, to tall, too normal but we prefer to see our clothes on them." So can Bless' coolly provocative existence be interpreted as a critique of the fashion industry? "No, we just add something to the system that for us is missing. So it's not a protest. We don't say 'this is wrong what you do and what we do is better'." But it is different. The humanity, the humour, the experimentation that Bless contribute make other fashion designers seem bland in comparison.
Their unconventional approach to designing and showcasing their collections has made them darlings of the art world. The number of exhibitions they have been in or staged now exceeds the number of collections – 53 to date. Despite this fact they would never be tempted to brand themselves artists. In fact the solution to the constant exhibition requests has been to go down a surprisingly commercial route with the Bless pop-up shops. "The whole Bless shop thing came up because we are often of course invited to show our work in a retrospective way, which to us is a bit absurd in terms of not being artists," explains Heiss. "Coming from the fashion design background we design for half a year and then it's over and then on to the next, so you don't want to display over and over the thing you did ten years ago. Especially the way you are exposing [she means exhibiting] something that was really meant for everyday life, that was never meant to be exposed."
With that Desiree Heiss finally answers the phone that has been ringing for some time in the un-staffed office and Ines Kaag moves even closer to the fisheye lens, her face now taking up the whole computer screen for one last intimate insight into the world of Bless. "When we started Bless it was more to look for an alternative, and we imagined that to become a fashion designer would be really horrible actually," says Kaag. "Like if we did it the proper way we wouldn't survive personally." That is why they continuously operate on the fringes of fashion, in the hinterland between art and design: because they choose to. No one can tell Bless what to do.
Portrait by Elisabeth Toll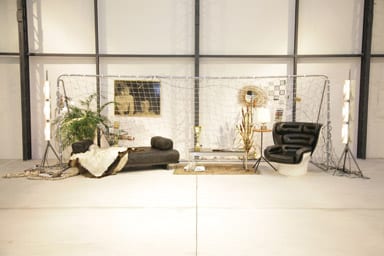 ---