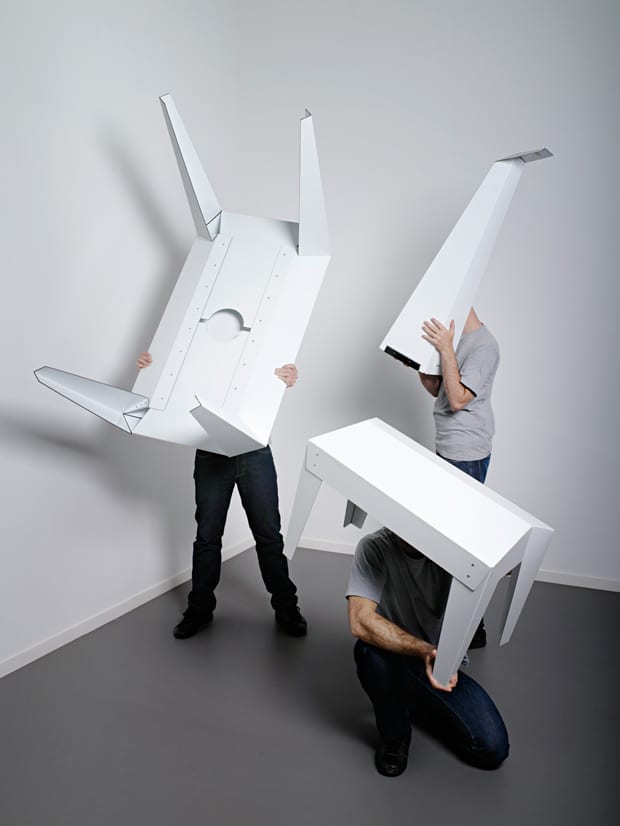 words Anna Bates
Big-Game has created three new collections for a retrospective of its work. The Belgian-French-Swiss design trio has taken a fresh look at Marcel Duchamp's tired old dictum with Ready Made, exploited a flexible polyethylene-aluminium composite for Fold and made a series of identical aluminium and balsa wood lamps in various sizes for Work.
The trio – known for its distinctive take on playful functionalism – wanted to try something more conceptual with Ready Made. "You get criticised as a designer that your object is already made," says Big-Game member Augustin Scott de Martinville. "Especially as a design student – we were often told, 'This is nice, but it's a readymade.'" But for this collection the designers have taken readymade objects and designed onto them, building a bird house around a plate and exploiting the flatness of old Fiat Panda windows by adding a reflective surface to create mirrors. The series also includes a billboard-shaped light made by a neon sign producer, and a collection of vases – not exactly readymades, but the shapes are taken from Belgian water towers.
In the Fold collection, Big-Game played with the malleability of aluminium composite Alucobond to create flat-pack lights and furniture. The buyer simply folds the item into place, pinning it together like a piece of origami.
All of the pieces (apart from the wooden Work lamp and Bird Plate for Galerie Kreo) are self-initiated projects. They will be shown as part of Overview, a retrospective of the studio's work at Grand-Hornu Images in Mons, Belgium, from 18 October. Big-Game has also produced a book of its work to coincide with the exhibition.
www.grand-hornu-images.be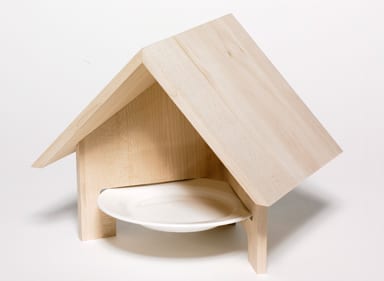 ---