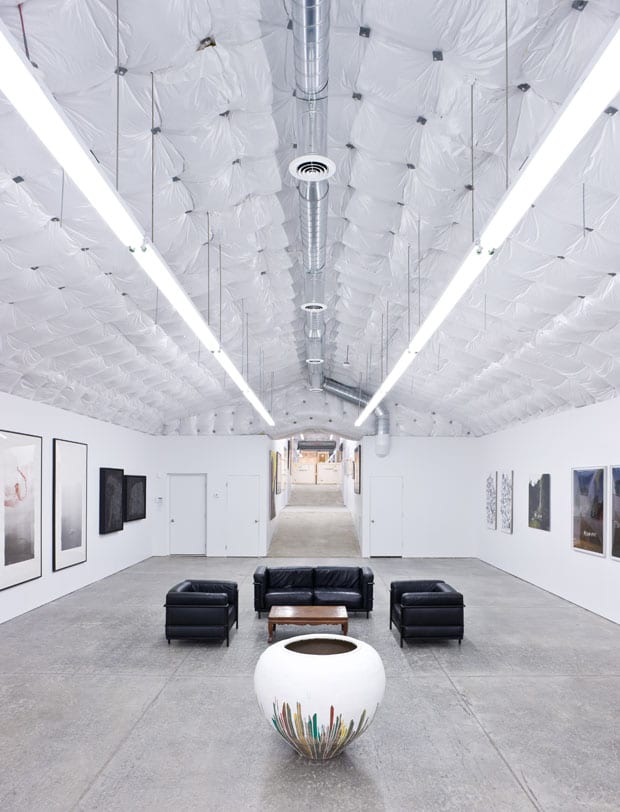 words Beatrice Galilee
A Chesterfield sofa appears to have inspired the soft white ceiling of Artfarm, a gallery and storage space for an art collector on the grounds of his rural retreat in Salt Point, upstate New York.
"In this area there are lots of collectors who need somewhere to store their work, but want a museum-like presentation space to show possible buyers. It's quite a common problem," explains architect Simon Frommenwiler of Basel-based practice HHF, who worked on the project with Chinese artist Ai Weiwei. "The client told us, 'give me as much space as you can for as little money as I can pay you.'"
The 400sq m building is made up of ribbed metal components more commonly found in agricultural sheds, the dominant form in this rural area. However, once the problem of a cheap and easy construction method was solved, the task was to maintain a stable environment for the art.
"To keep a high temperature is usually quite a high-tech task," says Frommenwiler. "We have closed the envelope, heavily insulated where we can have heating and cooling." This thick layer of insulation is covered in sheets of soft shiny PVC, held in place by long nails in square patterns, giving the interior a luxurious, if somewhat eccentric, upholstered effect.
The Artfarm is split into three volumes linked by ramps. The base is pre-cast concrete and the architect says it's built on foundations thick enough to build a seven-storey building. There are only three windows placed at the end of each hall, but together with the white walls and ceiling, the natural light within the hall itself has been "astonishingly bright".
---