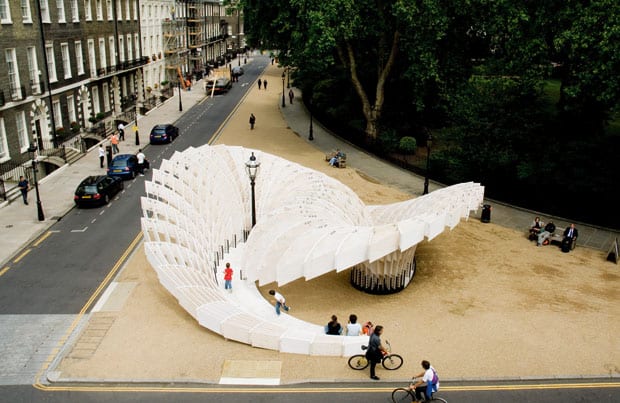 words Johanna Agerman
Pavilions always pop up during the London Festival of Architecture (formerly the London Architecture Biennale), but this year there was a bumper crop of them. From the handful of mobile Portavilions by international artists touring London's parks to the more substantial constructions on this page, they formed platforms from which London's public spaces could be viewed from a new perspective.
In Bedford Square, 549 white-stained wooden beams and six tonnes of steel made up Swoosh – this year's Architectural Association pavilion. The structure created a fluid space that was part walkway, part shelter, part bench as the fluid structure seemingly gyrated around one of the square's lamp posts.
The pavilion is modelled on student Valeria Garcia's winning competition entry and then developed by 12 second- and third-year students over a period of 30 weeks. As the structure is put together with bolts rather than screws it can easily be dismantled and reassembled in a different place.
---