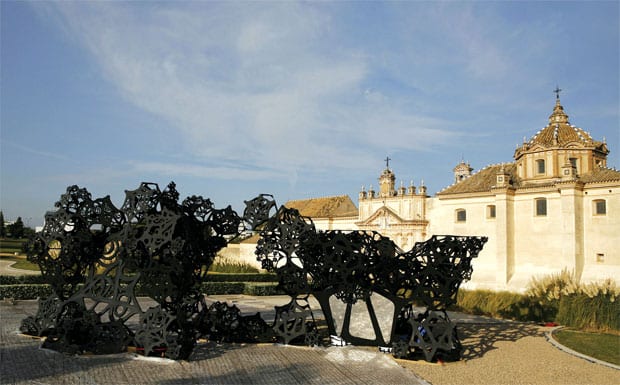 words Nick Clarke
"Form and content is collapsed into one," says Chris Lasch, one half of New Yorkdesign firm Aranda/Lasch, of the Morning Line, the firm's latest project. Working together with British artist Matthew Ritchie and engineer Arup, Lasch and his partner, Ben Aranda, have created this installation for the Contemporary Art Biennial of Seville.
The Morning Line, which was commissioned by Thyssen-Bornemisza Art Contemporary and acts as the cornerstone of the biennial's Youniverse exhibition, is a porous "anti-pavilion" made from laser-cut aluminium and covered with aggregated epoxy paint. It's eight metres high, 20 metres long and consists of 246 pieces, all of which are based on the shape of a truncated tetrahedron. The pieces come in four scaled sizes, the largest of which is 4.9m high. In fact, the pieces can be scaled to any imaginable size to make any number of architectural formations. Lasch explains: "We worked with Matthew Ritchie to define simple geometrical rules so that we could guarantee not only that each drawing would meet the next and be continuous across space but also scales."
It's not static, either: an embedded film and sound system makes for an interactive experience. Neither is it solitary; its sister structure, a cut-and-pasted portion of the Morning Line called the Evening Line, was on show at the 11th Architectural Biennial in Venice.
---