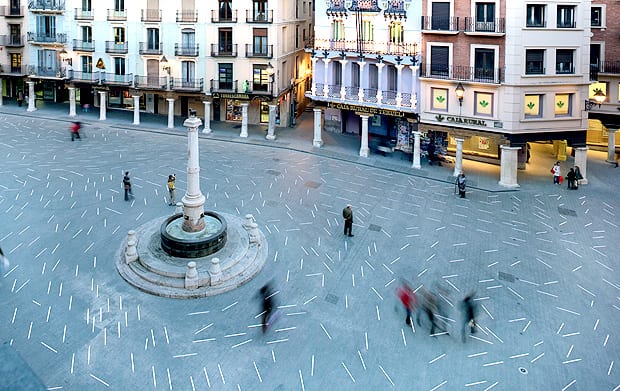 words Beatrice Galilee
Ancient underground water chambers have been transformed into gallery spaces beneath Plaza del Torico in the 12th-century town of Teruel, north-eastern Spain.
Barcelona-based practice B720 used the walls of these chambers to guide the direction of the 1,230 LED lights that now glow on the surface of the square. "We wanted to propose an idea of flux and flow, something new for this historic square," says B720 director Fermin Vázquez.
Teruel's is a familiar story in this part of Europe, where the prettiest of Unesco heritage cities are suffering from lack of jobs and infrastructure since their agricultural industry has all but disappeared. Signalling urban renewal and promoting tourism through contemporary architecture continues at a rapid pace in Spain, and Santiago Calatrava is building a monster conference centre and office development not far away in the quiet university town of Oviedo. Fortunately the government of Teruel was anxious to create something special for the square and took on a far more subtle approach.
"They just needed three things," says Vázquez. "One was to tidy up the services, with lighting and a new pavement, and another was to make the chambers accessible. They also wanted a strong proposal to add contemporary layers, to produce signs of modernity."
The LED lights buried into the square neatly address all three concerns, signalling the presence of the new network of corridors and tourist facilities below. The lights can be programmed to go from white to red on special occasions.
B720 had previously worked on a masterplan in the region with David Chipperfield, so was familiar with the requirements of the town. "They didn't really need anything but new paving," says Vázquez, "but I think it's legitimate to want something more."
---