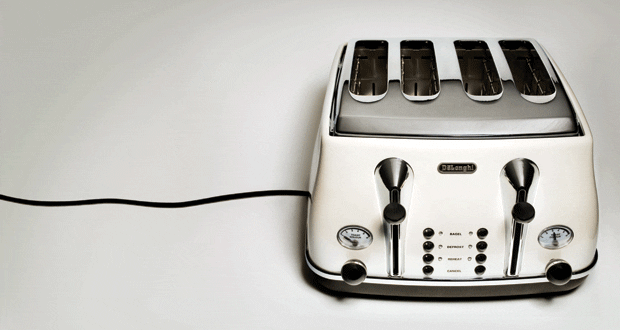 words Sam Jacob
A cultural breakdown of the Icona, the UK's best-selling four-slice toaster, designed by Dario De Pra for DeLonghi.
The product's curves follow a tradition of Italian "sensual" design.
The bulges recall the body of a Vespa. This language draws on classic post-war Italian design and has a 1950s romanticism.
Anita Ekberg's thighs lapped by the waters of the Trevi Fountain in Fellini's La Dolce Vita.
The Icona is a development of DeLonghi's Metropolis range – Metropolis in the Fritz Lang sense. Elements of 1930s automisation break through the skin of the product with its dials and nobs – the toaster is presented very much as a "machine for making toast".
Streamlining
There are references to Futurism here. Born in Italy, Futurism stressed the dynamic over the static, suggesting movement in art and architecture using streamlining. Futurism stood for the triumph of technology over nature.
Retro-ism: the multiple and overlaid historical references give the product a non-specific old fashioned-ness. The toaster's retro-aesthetic conjures a nostalgic feeling of optimism for the future.
This is all highly ironic, the idea of a sexy, wild, fascistic, modernist death-cult like Futurism being used as inspiration for a retro toaster.
Four slices
The sheer size of this machine turns tea and toast into a culinary event. Icona's four slices and association with Italian food culture make it aspirational for consumers more used to fragmented Anglo-Saxon eating habits.
The rise of Italian food culture as a symbol of "good living" and domesticity.
Kettles and toasters are "mature" technologies. Developments are not technological, but occur in relation to more intangible issues such as lifestyle, image and brand.
Glamorisation and exotic-ification of domestic products.
Italian vehicle design
A two-part process of paint and lacquer finish gives a depth to the surface, recalling the bodywork of a sports car.
Dials, buttons and levers emphasise user control.
The "feel" is designed as much as the "look". The proportional resistance as you turn the browning control of the toaster gives you a feeling of the mechanical nature of the product: a feeling that something inside is "working".
The plastic handle is designed to mimic early products made from Bakelite, with a metal strip sandwiched in the middle as a piece of historical detailing.
---