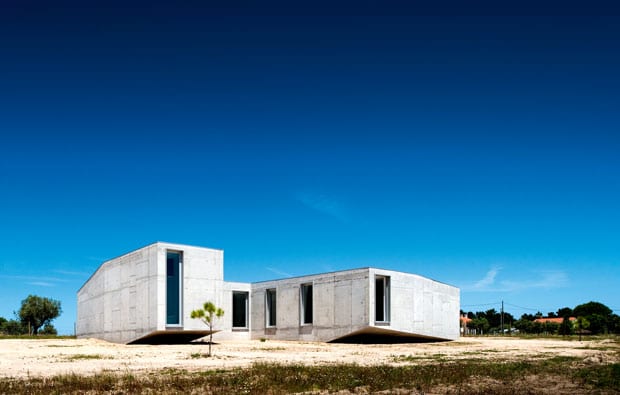 words Claire Dowdy
This is an experiment in living according to architect Nuno Piedade Alexandre, and he's the guinea pig. He designed Casa NuDi for himself and his wife, Dina Gomes, as his first built project.
The house stands on the outskirts of the village of Vale de Santarém in Portugal, 6km from the town of Santarém (where Alexandre has his office), and 70km from Lisbon.
Alexandre's aim was threefold: to create a house that fits in with its environment; to mark that landscape, "leaving an event that stands for my view on contemporary architecture"; and to create what he calls a "habitat laboratory".
Casa Santarém is effectively a 200sq m, three-bedroom, concrete bungalow. The plan, it has to be said, looks a bit like a swastika, branching off in a series of L-shapes. This sprawling arrangement separates the night and day functions of the house and maximises light and views.
"At the entrance, we have the centre of circulation that divides social and private areas," he explains. "The rooms look east and south, or onto an internal patio," which are popular in sunny climes, he adds.
This courtyard brings light to communal areas. Yet more sun flows in through narrow vertical windows, which allow in ten times more light than horizontal windows, says Alexandre.
The couple's studio, where they paint, is joined to the patio by a corridor with an angled ceiling. This oblique plane, he believes, makes the space "very fluid and dynamic".
"The house has a little of Corbusier; it's a neobrutalist and rationalist house with a sensitive design form that fits a determined habitat," he says.
Alexandre set up his practice three years ago, soon after his studies at Lisbon's Universidade Lusófona de Humanidades e Tecnologias under Nuno Cavaco.
As for the experiment, he says "technically, the house functions well".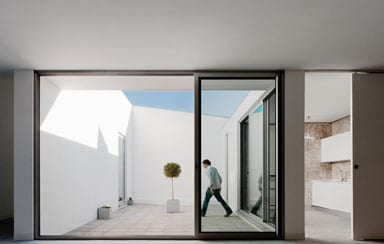 ---