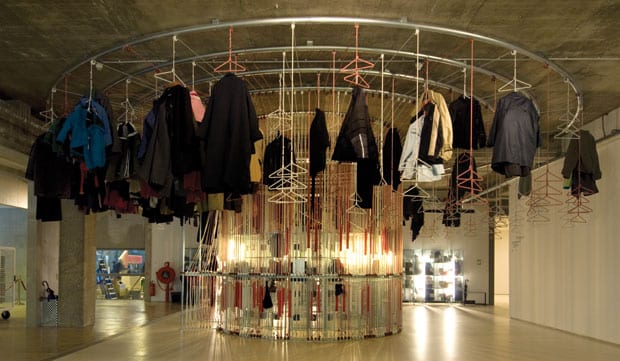 An all-Dutch designer team of Jurgen Bey, Ted Noten, Wieki Somers, Bertjan Pot, Simon Heijdens and Frank Bruggeman has been unleashed on the new entrance areas of Rotterdam art and design museum Boijmans Van Beuningen. Working under the name Haunting Dogs Full of Grace, the six designers each took on a different function.
Rather than behaving as interior designers, the Dogs have taken a more conceptual approach. But it won't be lost on visitors; the designers are more interested in visitors "experiencing" design, and have turned mundane situations like hanging your coat and buying a ticket into a process to enjoy, demonstrating how lateral thinking can be integrated into everyday experiences.
In place of a cloakroom, Wieki Somers has designed the Merry-Go-Round Coat Rack; visitors haul their coat up to the ceiling on a pulley, based on a system used in mines that she saw on a TV documentary. "They stocked everything high because there's little space," says Somers. "I thought it was very functional, but I also like the idea that it's very dynamic – it's changing colour all the time."
Ted Noten has created a robotic ticket machine in the guise of a cushioned box that hands out tickets in the form of bracelets and Bertjan Pot has designed a glass-walled shop to encourage window-shopping. Meanwhile Simon Heijdens has contributed an espresso bar that reads you: the tabletops have optical software that captures text from anything visitors place on the surface – books, newspapers, mobile phone text messages. The words are then converted into ornamental images, and projected onto the ceiling.
"We wanted to have the designers' qualities in the museum," says Cathy Jacob, director of exhibitions at Boijmans. The museum presented the six with 1500sq m and a list of amenities that they could provide however they wished. "The entrance has become a public space where people who don't want to go to the museum can spend time," she says. Other additions include the information desk by Frank Bruggeman and Jurgen Bey's education centre.
www.boijmans.nl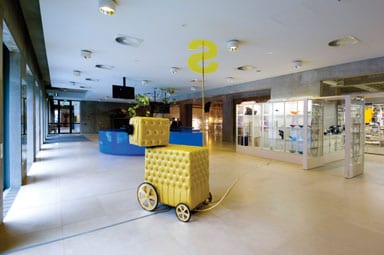 ---