words Oliver Wainwright
A trip to the dentist has become something to look forward to for residents of Fukuyama, a town outside Hiroshima. It's thanks to Keisuke Maeda of UID Architects, whose new clinic is more Zen retreat than sterile surgery.
Squeezed into a long narrow plot, the building's cedar-clad plywood shell deftly envelops a dental clinic, beauty salon and the architect's own office –the kind of surreal mixed-programme that can only happen in Japan.
"We tried to rethink the values associated with a mixed-tenancy building," explains Maeda. "The challenge was to give as much value to the interior spaces as to the street frontage."
Through a sequence of porous walls that progresses from the street to the back of the plot and inserting "a little forest" of trees in the building's open core, Maeda has softened the transition between the interior and exterior. "We wanted physical distance to become ambiguous," he explains, "creating an environment that would spread out in an organic manner."
Like a multi-layered stage set, each space is separated by a slender plywood screen with seemingly random openings, positioned to ensure privacy while retaining a sense of the adjacent conditions. These varied apertures set up a subtle spatial rhythm as they open and tighten through the different strata of the building, allowing glimpses of neighbouring activities through occasional alignment, but direct views are moderated by the central band of foliage.
While waiting for the drill, you might just be distracted by a glimpse of the curvaceous sunken workspace in the office above, sculpted around the architect's assistants, they have holes for miniature trees to poke through. "We always tried to break down the borders between the building and the garden," says Maeda.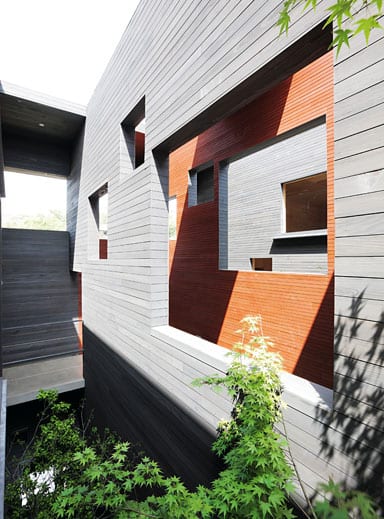 ---